Dallas Mavericks: Luka Doncic makes history against the Raptors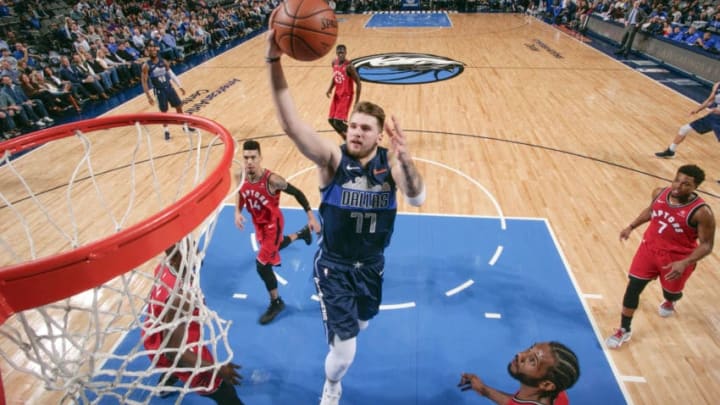 Dallas Mavericks Luka Doncic Copyright 2019 NBAE (Photo by Glenn James/NBAE via Getty Images) /
Dallas Mavericks rookie Luka Doncic posted his second career triple-double in a loss against the Toronto Raptors on Jan. 27.
Dallas Mavericks rookie Luka Doncic continues to play unprecedented basketball. The 19-year-old scores 20 points a game on a nightly basis. He also has eyes in the back of his head and knows where his teammates are in every moment. Luka has exceeded all expectations in short NBA career thus far.
He took it to another level against the Toronto Raptors on Sunday. The Mavs ultimately lost 123-120 on their home floor, but Doncic had his best statistical game. He played 36 minutes while produced 35 points, 12 rebounds, ten assists, and three 3-pointers made on 14 of 24 shooting from the field.
35 is a new career-high in points for Luka, but that was not the only thing that stood out about his performance. Tim Cato sent out the following Tweet describing Doncic's historical night.
Luka Doncic also became the youngest player in NBA history with 30-plus points in a triple-double. He surpassed his idol LeBron James who previously held the record at just over 20 years old.
Only cares about winning
The special part about Doncic is his drive to win. He does not care about the stats or personal accolades. Luka wants to win games and championships. That is a special quality for a superstar. The Mavericks are in a position to join the ranks of contenders in the near future and stay in the hunt for many seasons ahead.
Final thoughts
Luka Doncic made some history on Jan. 27, but the Dallas Mavericks lost against the Toronto Raptors. The rookie continues to put on a show for the fans while producing incredible stat lines. Here is a Doncic to Dennis Smith Jr. alley-oop from Sunday's game courtesy of the Mavs official Twitter.
Hopefully, Luka makes the All-Star team this week. The reserves are going to be announced on Thursday as part of NBA on TNT. Be sure to tune in for an entertaining night of basketball and to find out if Doncic made the cut. Having the 19-year-old in the All-Star game would be significant for the Dallas Mavericks.
The Mavs are off until Wednesday when they travel to New York to face the Knicks in Madison Square Garden. Fans can bet that Luka Doncic will be fired up to play in that historical arena. It could be a special night for the rookie, so do not miss it.