Miami Herald Predicts "Max Dallas" for Hassan Whiteside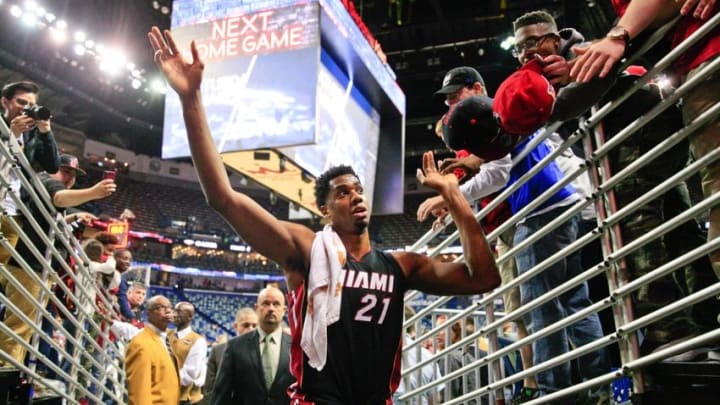 Mar 22, 2016; New Orleans, LA, USA; Miami Heat center Hassan Whiteside (21) celebrates with fans following a win against the New Orleans Pelicans in a game at the Smoothie King Center. The Heat defeated the Pelicans 113-99. Mandatory Credit: Derick E. Hingle-USA TODAY Sports /
With growing speculation surrounding the potential destination of Hassan Whiteside, the Miami Herald predicted Whiteside will go to Dallas.
Hassan Whiteside, the 27-year-old center who had a tremendous season in Miami, is set to hit unrestricted free agency on July 1st. Averaging a double-double and a league leading 3.7 blocks a game, Whiteside is arguably the most sought after free agent center on the market.
With the current money situation in Miami, Pat Riley and the Heat can only offer Whiteside the same amount of money and years that any other team across the league can. Combine that with the fact that Riley is focusing on Kevin Durant at the start of free agency, Whiteside could find a new home this offseason.
Then news broke earlier in the week that Whiteside was set to meet with the Mavericks at the beginning of free agency (per ESPN.)
So with all factors being considered, where does a prominent newspaper in Miami that has covered the Heat for years predict where Whiteside will end up in the offseason?
Ethan J. Skolnick, columnist from the Miami Herald who covers the Heat extensively, was on 790 The Ticket on Monday and predicted where he thinks Whiteside will sign this summer.
When asked, and without hesitation, Skolnick said "Max Dallas."
After another guy agreed, Skolnick said "I don't have strong conviction by it, but after yesterday…"
And the host chimed in with "In addition with other conversations and things we have been hearing."
Skolnick continued with "I just think he is going to be wooed by the Mark Cuban pitch provided Mark Cuban shows up and I think max Dallas."
More from The Smoking Cuban
Arguably the most interesting thing about the whole situation is Skolnick's last comment about Miami's perspective with Whiteside going into Friday.
Skolnick said "I think Miami is looking for an out, not to have to pay him and keep him…I think Pat is saying he is our priority, but ultimately is this an issue we really need to deal with?"
That is some heavy stuff coming from the Miami Herald, but still a prediction at the same time.
Listen to the full clip here.
With free agency getting underway on Thursday at midnight, Dallas has high hopes and aspirations to land a big fish, with Hassan Whiteside being one of them.