Big Blanket Co has the perfect Mother's Day gift for Mavs Moms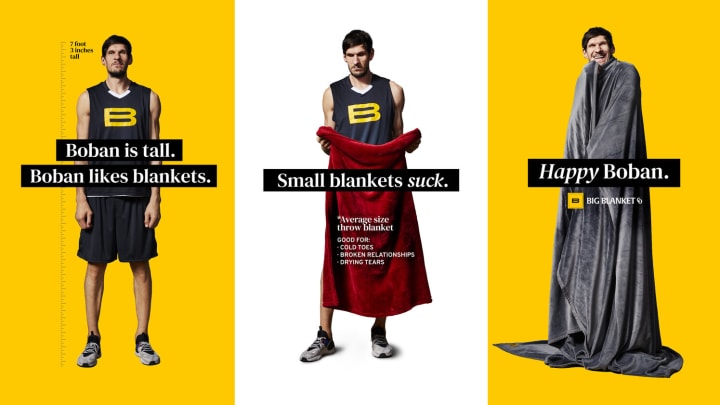 Hook Creative/Big Blanket Co. /
Looking for the perfect Mother's Day gift for Mom? That's not easy - especially with the Dallas Mavericks in the playoffs (and on the verge of advancing).
So the (shot) clock is ticking. Time is running out. You need to get something Mom will love and you need to get it fast.
After all, Mom deserves the absolute best, right?
Right.
Enter our friends at Big Blanket Co
They were kind enough to send me one of their Original Stretch blankets and I've been warm and comfy for the last week.
So here's the background.
In 2018 Bryan Simpson, Josh Stewart, Dane Watts and then-Detroit Pistons big man Anthony Tolliver founded the company with one goal - to make a 10" x 10" blanket. Why? Because, as they say, 'small blankets suck.'
Current Dallas Mavericks center - and runner-up for Teammate Of The Year - Boban Marjanovic played with Tolliver in 2018. In 2019, he joined the company as 'Chief Blanket Connoisseur.'
When he isn't grabbing rebounds, shooting commercials or trying to collect a bounty on John Wick's head, Boban likes to settle down on the couch and get comfy.
But it's hard to do that when you're 7-foot-3-inches tall.
Luckily for him, Big Blanket Co allows him to wrap up in a super-comfy blanket AND have some left over.
If it's good enough for Boban, it should be good enough for you. But if you're still skeptical, let me ease your fears.
Firstly, this blanket is... well... big. So Mom will have plenty of blanket to share. Secondly, this blanket is extremely comfortable. It's very soft and has the perfect amount of stretch to it.
Seriously - I shared this blanket with three other people and there was no pulling/pushing/blanket stealing. Typically, blanket warfare is a thing in this house. But Big Blanket Co. has brokered a peace deal that I never thought was possible.
Then I got extra brave and decided I was going to throw this in the washing machine - just to see how it would hold up. There was little to no pilling of the fabric and the blanket remains as soft as it did when I first opened it.
Typically, the Big Blanket Co Original Stretch blanket goes for $169. But right now you can save 20% during their Mother's Day sale. There are currently 26 different colorways available - so Mom can wrap up in her favorite color.
Check out Big Blanket Co today and get Mom their incredible 10" x 10" blanket.
This post contains affiliate links, where we may receive a percentage of any sale made from the links on this page. Prices and availability are accurate as of the time of publication.