Dallas Mavericks: Under the radar free agent centers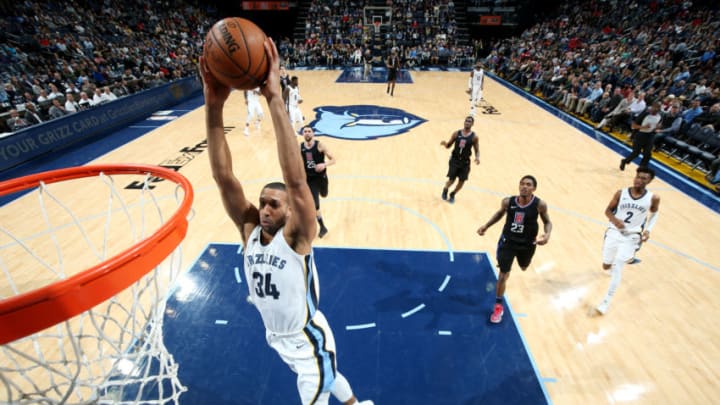 MEMPHIS, TN - DECEMBER 23: Brandan Wright #34 of the Memphis Grizzlies dunks the ball during the game against the LA Clippers on December 23, 2017 at FedExForum in Memphis, Tennessee. NOTE TO USER: User expressly acknowledges and agrees that, by downloading and/or using this photograph, user is consenting to the terms and conditions of the Getty Images License Agreement. Mandatory Copyright Notice: Copyright 2017 NBAE (Photo by Joe Murphy/NBAE via Getty Images) /
The Mavericks are expected to chase a star center when free agency starts. Some big names are being thrown around, like DeMarcus Cousins, DeAndre Jordan and Clint Capela. If, however, Dallas strikes out on acquiring a star rim protector, there are some under the radar free agent centers that would fit in nicely.
I know it hurts to say it, but the Mavericks have had some bad luck with free agent centers lately (maybe they shouldn't pursue a big name at all). Their quests to sign Jordan and Dwight Howard went…badly. With that in mind, I wanted to look at some of the options available should Dallas miss out on a big name center again. These players will probably come with cheap contracts, providing the Mavericks with flexibility for the future.
MEMPHIS, TN – DECEMBER 23: Brandan Wright #34 of the Memphis Grizzlies dunks the ball during the game against the LA Clippers on December 23, 2017 at FedExForum in Memphis, Tennessee. /
Brandan Wright
Remember in 2014, when the Mavericks were an offensive juggernaut the first couple months of the season? Sure, it was ruined as soon as they traded for Rajon Rondo. But before that, the Mavericks were fun to watch on the offensive end of the floor.
Wright was a big part of that offense, sucking defenders into the lane to guard against his dives to the basket. He had great instincts and fit into Rick Carlisle's system perfectly. It's four years later and some of Wright's athleticism has been sapped by injuries, but I think Wright could still be effective in the short-term. It wouldn't cost much to sign him, leaving the Mavericks in a position of flexibility if a center they like more becomes available.
OAKLAND, CA – MAY 26: Kevon Looney #5 of the Golden State Warriors shoots the ball against the Houston Rockets during Game Six of the Western Conference Finals during the 2018 NBA Playoffs on May 26, 2018 at ORACLE Arena in Oakland, California. /
Kevon Looney
I've already discussed how I think Looney would fit in here in Dallas. Since then, he's played well in the Finals and made people wonder why Golden State declined his team option at all. Looney isn't as athletic as some of the guys on this list, but his feel for the game resembles that of a 10-year veteran.
He's only 21 years old, and his per-36 numbers (10.6 points and 8.5 rebounds) are respectable. It's possible he could improve with a bigger role on a new team. At such a young age, it's likely he still has a lot of room left to grow. A contract for Looney wouldn't be as cheap as Wright, but there's more potential. The Mavericks could stumble into a bargain here.
BOSTON, MA – MAY 27: JR Smith #5 of the Cleveland Cavaliers and Aron Baynes #46 of the Boston Celtics reach for the ball during Game Seven of the Eastern Conference Finals of the 2018 NBA Playoffs between the Cleveland Cavaliers and Boston Celtics on May 27, 2018 at the TD Garden in Boston, Massachusetts. /
Aron Baynes
Baynes is almost certainly on his way out of Boston. He's played so well that he's earned a raise that the Celtics probably aren't willing to pay. He might end up the most expensive center on this list.
The fit here in Dallas isn't ideal, as Baynes is not the athletic roll man who usually thrives in Carlisle's offense. But with his size and defensive instincts, he could be a good bridge to a more elite center. Baynes would provide a big body in the paint that would seal off lanes and protect the rim. If the price is right, the Mavericks should strike.
SACRAMENTO, CA – APRIL 11: Tarik Black #28 of the Houston Rockets dunks against the Sacramento Kings on April 11, 2018 at Golden 1 Center in Sacramento, California. /
Tarik Black
Black is another center whose per-36 numbers (12.1 points and 10.9 rebounds) hint at hidden potential. He's a little undersized at 6'9″, but has a seven-foot wingspan and an almost nine foot standing reach. He's agile and has the shot blocking ability to protect the rim.
He is a little limited on offense, however. Black doesn't shoot free throws very well, and his field goal percentage nosedives just a few feet away from the basket. The good news is centers don't pick-and-pop very often in Carlisle's offense, so Black's weaknesses won't be emphasized. Black will probably be available for a very cheap contract.
Next: Mavs don't need to catch a big fish this summer
Although none of these options serve as a long-term solution for the Mavs, they are solid backup options should the plan to go after Cousins, Capela and Jordan fail.