Under the Radar Dallas Mavericks Free Agent Targets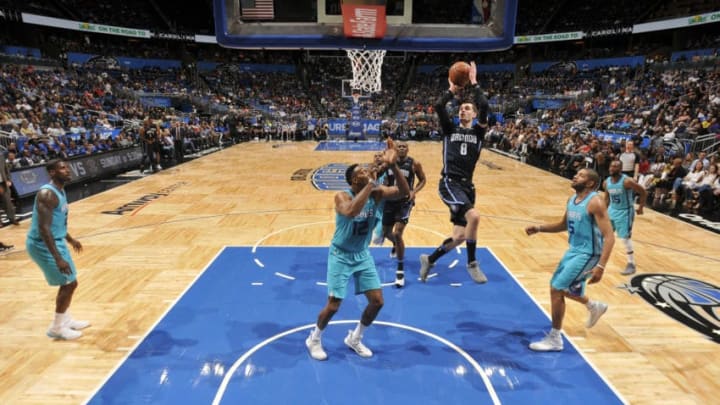 ORLANDO, FL - APRIL 6: Mario Hezonja #8 of the Orlando Magic shoots the ball against the Charlotte Hornets on April 6, 2018 at Amway Center in Orlando, Florida. NOTE TO USER: User expressly acknowledges and agrees that, by downloading and or using this photograph, User is consenting to the terms and conditions of the Getty Images License Agreement. Mandatory Copyright Notice: Copyright 2018 NBAE (Photo by Fernando Medina/NBAE via Getty Images) /
For the next couple of months, there's going to be a lot of discussion about who the Dallas Mavericks should sign in free agency. After all, they're one of the few teams with significant cap space available this off-season. And while there are a few familiar names everyone is concentrating on, I'd like to discuss four under the radar free agent targets that Dallas should look into if the price is right.
Keep in mind, no one on this list is going to transform the team and turn Dallas into a playoff team. But the Mavericks have been trying to hit a home run in free agency for the last five years. Maybe it's time to try to improve the roster incrementally by hitting a few singles and doubles.
The most important thing for the Mavericks to consider is the cost of these players. If they can sign one while remaining financially flexible, it's worth it. That's why they're interesting. They can be had at a much lower price than some of the more marquee players mentioned above.
Mario Hezonja
The Orlando Magic small forward has failed to make an impact in his third season, only averaging 9.6 points per game. He's not rebounding or making plays, either, as he only averaged 3.7 rebounds and 1.4 assists per game. There's a reason the Magic didn't pick up his fourth year option, making him an unrestricted free agent.
The Mavericks need talent on the perimeter, and the former fifth pick in the 2015 draft could be worth a flier. Orlando has been unstable and chaotic since Hezonja arrived. Perhaps that's the reason he's never been able to fulfill his potential. He's a 33 percent career shooter from behind the arc, and nowadays, every NBA team can use more shooting.
The likelihood of signing Hezonja probably depends on how the Mavericks feel about Doug McDermott and the direction of the team. If Dallas decides to go for a full youth rebuild, the younger Hezonja might be a more viable option.
SALT LAKE CITY, UT – APRIL 27: Jerami Grant #9 of the Oklahoma City Thunder reacts to a call in the second half during Game Six of Round One of the 2018 NBA Playoffs against the Utah Jazz at Vivint Smart Home Arena on April 27, 2018 in Salt Lake City, Utah. The Jazz beat the Thunder 96-91 to advance to the second round of the NBA Playoffs. NOTE TO USER: User expressly acknowledges and agrees that, by downloading and or using this photograph, User is consenting to the terms and conditions of the Getty Images License Agreement. (Photo by Gene Sweeney Jr./Getty Images) /
Jerami Grant
Unlike Hezonja, Grant isn't a former lottery pick. Picked 39th overall by the 76ers, Grant has slowly developed into a rotation player, filling a key role for the Thunder off the bench the last two seasons. He isn't the shooter that Hezonja is, but is a better defender. He's able to defend three positions, if not four, and would give the Mavericks some depth behind Harrison Barnes.
One of the things I like about Grant is how aggressive he can be. He was fourth on the Thunder in free throw attempts, despite usually being the fourth or fifth scoring option on the floor. It wasn't exactly an unpopular opinion to say that the Thunder were a better team when Grant was on the floor instead of Carmelo Anthony.
LOS ANGELES, CA – APRIL 4: Kentavious Caldwell-Pope #1 of the Los Angeles Lakers handles the ball against the San Antonio Spurs on April 4, 2018 at STAPLES Center in Los Angeles, California. NOTE TO USER: User expressly acknowledges and agrees that, by downloading and/or using this Photograph, user is consenting to the terms and conditions of the Getty Images License Agreement. Mandatory Copyright Notice: Copyright 2018 NBAE (Photo by Andrew D. Bernstein/NBAE via Getty Images) /
Kentavious Caldwell-Pope
Signing Caldwell-Pope definitely depends on the price. He made 17 million dollars this year with the Lakers. Granted, that high amount was because he was on a one year deal that may or may not have been a favor to his agent, Rich Paul. You know, LeBron James' friend. Anyway, the Mavericks could use some size at shooting guard, and Caldwell-Pope has prototypical height for the position.
He'd also provide outside shooting as he's 35 percent from 3 for his career. He's not exceptionally long, but with a 6'8″ reach and quick feet he'd be able to defend both guard positions and occasionally slide over to small forward if an opposing team went small. Again, his price is the key here. If Dallas can sign Caldwell-Pope for around $8 million or less per year, I think it'd be a bargain.
OAKLAND, CA – APRIL 28: Kevon Looney #5 of the Golden State Warriors drives to the basket against Darius Miller #21 of the New Orleans Pelicans during Game One of the Western Conference Semifinals at ORACLE Arena on April 28, 2018 in Oakland, California. NOTE TO USER: User expressly acknowledges and agrees that, by downloading and or using this photograph, User is consenting to the terms and conditions of the Getty Images License Agreement. (Photo by Lachlan Cunningham/Getty Images) /
Kevon Looney
It's hard for young players to get any playing time in Golden State. Really the only chance they have of seeing the floor is if there's an injury to a starter. So it's no surprise that Looney really hasn't had a chance to shine as a Warrior. But I think he's got potential, especially as a roll man in Rick Carlisle's offense.
Looney doesn't have elite athleticism, but he has a feel for the game. He'll know when to dive to the hoop on a pick-and-roll, something that's much more complicated than it seems. Looney won't be jumping out of the gym to catch a lob from Dennis Smith Jr., but if he knows where he's supposed to be, when to make his move to the basket, and how to set efficient screens, he can be a huge asset to the Mavericks.
It's been a long time since Dallas had a big man who had a good feel for the game on the offensive end. Looney could probably be signed for around $2-3 million per year. That's worth the gamble on a player who hasn't had the opportunity to show his entire game.
Next: Roundtable: Top 10 Draft Board for the Dallas Mavericks
If there's an under the radar free agent you're interested in that I didn't mention above, comment below and we'll discuss.