Mavs News
The Missing Links in the Nerlens Noel Timeline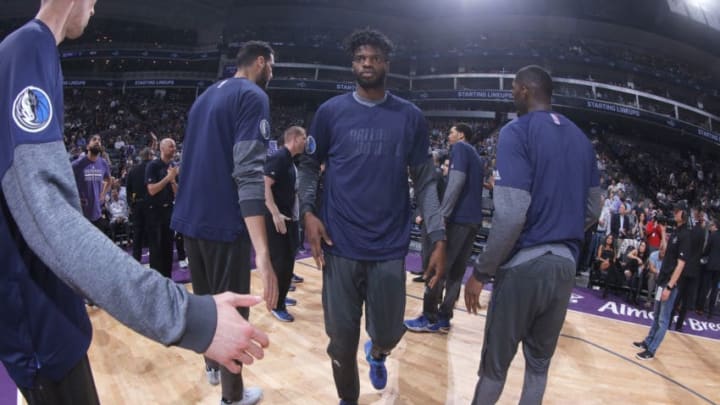 SACRAMENTO, CA - APRIL 4: Nerlens Noel /
The Dallas Mavericks and Nerlens Noel have an interesting situation at hand, but there are still some missing links in the timeline.
By now, many people know that Nerlens Noel is on track to sign his one-year qualifying offer with Dallas for around $4.1 million a year. A move that was surprising to many around the league.
After conflicting reports from people inside the same media company and different angles coming from different sources, the situation has provided an entertaining past 24 hours for NBA fans.
But even though the situation is resolved for now, there are still a few wrinkles in the timeline of events that led to Noel taking the qualifying offer. Lets go through the brief timeline…
On July 1st, Dallas makes their initial offer to Nerlens Noel at the beginning of free agency.
As Noel entered restricted free agency, Dallas looks to have tried to get ahead of the curve with Noel and offer him that $70 million. But, according to his agent at the time in Happy Walters, it was Nerlens' decision to pass on the deal.
So what was the number that Nerlens was seeking? Was it a max contract for around $25 million a year that many assumed it was or was it a number around $20 million?
According to Tim MacMahon, Noel was seeking that max contract.
MacMahon reports that Noel was seeking the max and that after Noel declined Dallas' initial offer, then the Mavs "pulled" their offer.
Missing Link #1 – Did Noel know that Dallas would pull their offer from the table when he declined it at the first of free agency?
This is a key part to the story because it sort of determines what Noel is actually betting on.
If Noel didn't know that Dallas would pull the offer completely when he declined it early in free agency, then he could have went through all of free agency thinking that the $70 million offer would still be there are the end of his shopping around.
In this case, he wouldn't be betting on himself yet, but rather betting on his agent to get him that max contract he was seeking.
If Noel did know that Dallas would pull the offer when he declined it, then he would be betting on his agent AND a possible year of playing on the qualifying offer.
Missing Link # 2 – What happened after Noel circled the league and found out he wouldn't be getting a max offer from another team?
When Haynes first broke the news that Noel would be accepting the qualifying offer, he added in that the reported $17 million offer was non-existent in any form. This, in a sense, contradicts the information from previous reporters and Happy Walters that Noel was offered that $70 million deal.
Or was Haynes reporting that the $17 million wasn't on the table at the end?
But then you have Happy Walters telling the Dallas Morning News on July 18th that they were still "waiting on a serious offer" from the Mavericks.
Was he referring to the first deal that was pulled from Dallas that was pulled from the table as non-serious?
Did Nerlens ever reach back out to Dallas about the original offer?
Insert the third missing link
Missing Link #3 – Was there ever a second offer from the Mavericks to Nerlens Noel?
If Nerlens didn't reach back out about the original offer, was that because he knew it was "pulled" from the table? Or was it because he knew he still wouldn't take the deal?
Some people would draw the conclusion that Dallas and Nerlens had one negotiation on July 1st and there was never a second conversation or second offer. Then Brad Townsend, of Dallas Morning News, talks with Noel's mother and she talks about Nerlens discussing the money situation with her two weeks ago.
""He told me two weeks ago he's willing to sign for four years with Dallas, but they're not giving him much money for four years," Dorcina said. "He told me he was asking for about $22 million a year, but Dallas refused to give it to him.""
Noel's mother would go on to tell Townsend that he would be willing to sign for $20 million.
""He told me, 'If Dallas gives me $20 million, I'm going to be there because they love me there. I said, 'Yeah, I love it there, too,'" Dorcina told Townsend."
This means this conversation between Nerlens and his mother took place just a few weeks ago in August. Reading between the lines, if Dallas pulled their offer at the beginning of free agency after Nerlens declined and there was never a second offer, would Nerlens telling his mother this make any sense?
Dallas was pretty open about wanting Nerlens back, so if they pulled the first offer and never made a second offer, does that mean they still want him?
Why "pull" the offer at the beginning if you didn't plan on coming back with a lower offer later on?
The past six to eight weeks have been perceived as a standstill between Dallas and Noel's camp. You can't be in a standstill if you don't have anything on the table. And if the original offer was "pulled", then what offer was on the table?
My Theory
Free agency starts on July 1st and Nerlens receives his offer from the Mavericks for four years, around $17 million a year.
More from The Smoking Cuban
Nerlens, with Happy Walters as his agent, wants near max money and believes that his camp can get more than that from another team in free agency. The Mavericks tell Noel to shop around, but they still want him back.
As Noel is slowly coming up empty on his search around the league, Dallas pulls their $70 million offer because they know there is nobody they are betting against.
Noel comes back around to Dallas after his empty shopping trip and Dallas gives him a lowered offer because they knew he didn't get his max and assumed he would never take the qualifying offer.
This new offer from Dallas is what prompts the Walters quote about a serious offer and puts both camps in a standstill as free agency goes on.
Noel slowly grows fond of the idea of taking the qualifying offer but Walters is against it and is pushing for Noel to take the money on the table from the Mavs. This results in Noel firing Walters and hiring Rich Paul as his new agent.
Noel hires Paul because he is onboard with Noel taking the qualifying offer and hitting unrestricted free agency next summer.
*My theory is simply my opinion as I read between the lines of the previous reports. I am in no way discrediting the reports above, rather forming my own opinion of piecing everything together.
Next: Nerlens Noel Would Have Taken $20 Million Per Year
The Nerlens Noel situation is resolved for the time being, but nowhere near being over.