Mavs News
Dallas Mavericks predictions for the 2021-2022 season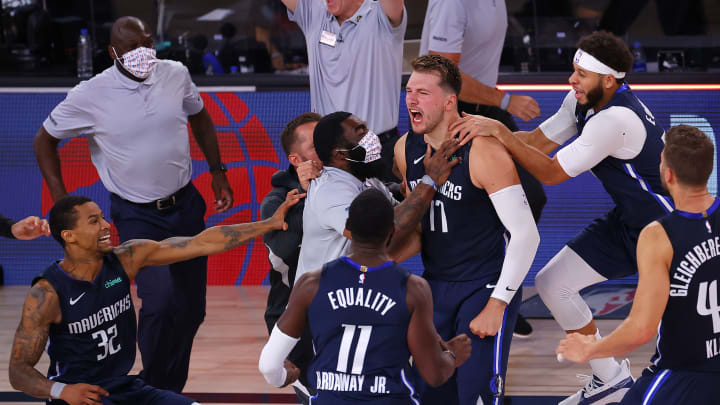 Los Angeles Clippers v Dallas Mavericks - Game Four / Kevin C. Cox/Getty Images
The Dallas Mavericks finished fifth in the tough western conference last season to make it two years in a row in the playoffs. With a record of 42-30 in a slightly shortened season, it was enough for fans to be content. However, the start of this season makes supporters wonder how much further the Mavs can climb in 2022.
The team has improved this offseason, giving the Mavericks new faces, such as Reggie Bullock and Sterling Brown in free agency. Also, the Josh Richardson trade returned a young center in Moses Brown. It is an offseason where they didn't make a big splash but made the right decisions in getting these players to Dallas. 
The Mavs win percentage last season was 58.3, which is strong for any year. They got slightly better this offseason, and if the Mavericks don't have a massive COVID outbreak, they will be aiming high. How far is Dallas going to climb?
Dallas Mavericks predictions for the 2021-2022 Season
Considering they were down key players for a considerable amount of games last season, it is not a reach to think the Mavs could lose fewer than 30 games in the 2021-2022 campaign.
The Dallas Mavericks will end their season with a record of 53-29, placing them at number three in the Western Conference, just behind the Lakers and Nuggets. The new faces will shine as they did on their previous teams, giving the Mavs a much-needed boost this season. This will be the year that Dallas finally makes it past the first round, and the Mavericks go even further than that. 
In the playoffs, they go at least two rounds deep, winning both series in less than seven games. Luka Magic will come out, keep his playoff presence at an all-time high, and roll through these games as he did during the Olympics. A matchup against the Lakers seems inevitable if the Mavericks make it that far, and it would be one for the history books.
This Dallas team will go deep in the playoffs, but they do not have enough firepower to go all the way. Another year of team building should be enough to take the Mavericks to the top and give them a strong chance at winning the championship. Also, fans never know what the future holds, or the kind of magic that Luka Doncic and this team can pull off.