Mavs News
Dallas Mavericks: What to watch for in Mavs at Clippers Game 2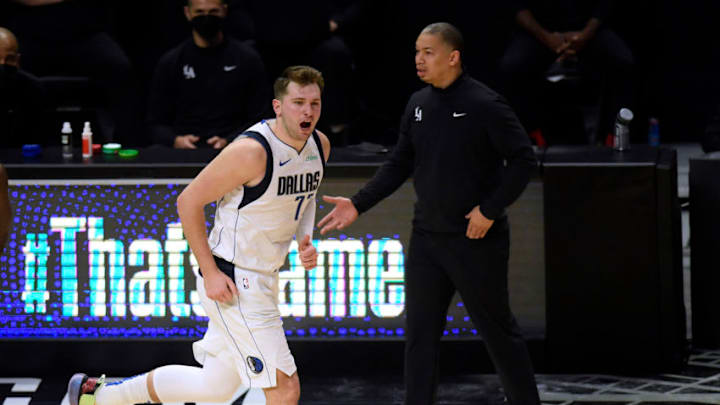 Dallas Mavericks Luka Doncic (Photo by Harry How/Getty Images)
The Dallas Mavericks defeated the LA Clippers 113-103 in Game 1 of their first-round playoff series. Superstar Luka Doncic had a 31-point triple-double to lift his team into the early lead, but there is a lot of basketball left to be played.
Game 2 takes place on Tuesday evening at the Staples Center. The Clippers will be looking to solve the puzzle that is stopping Luka and get back in the win column. Expect Kawhi Leonard to have a monster night as LA tries to even the series on their home floor.
Here is a closer look at how and what fans should be watching for in Game 2 of Mavericks versus Clippers on May 25.
Dallas Mavericks vs. LA Clippers Game 2: How to watch
Start time: 9:30 p.m. CT or 10:30 p.m. ET
How to watch: NBA TV (national), Bally Sports Southwest (Dallas market), Bally Sports SoCal (Clippers market)
Watch online: NBA TV, Bally Sports app (both local market)
Dallas Mavericks vs. LA Clippers Game 2 injury updates
The Mavericks listed Maxi Kleber (Achilles soreness) as questionable of the NBA's official injury report heading into Game 2. He started and was tasked with guarding Kawhi Leonard in the opener. Dallas needs Kleber in this series, so his status will be important to watch going forward. J.J. Redick remains out for the Mavs and is not expected to play in this series.
For the second straight game, the Clippers have a clean injury report. Expect them to be at full strength on Tuesday evening.
Be sure to check Twitter for updates on Maxi's status before tipoff on May 25.
Dallas Mavericks vs. LA Clippers Game 2 storyline to watch: Adjustments
Clippers coach Tyronn Lue has not been shy about discussing the adjustments his team plans to make in Game 2. They want to get into the paint, create more open looks, and play small. Fans could also be treated to more Kawhi Leonard guarding Luka Doncic in the head-to-head battle of the two superstars.
Mavericks coach Rick Carlisle keeps his adjustments close to the vest, but there will be some. Dallas is looking to stay one step ahead and grab a commanding 2-0 series lead as things shift to Texas. It will take another incredible performance from Luka, plus the role players stepping up for the Mavs to win on Tuesday night.
Fans will not want to miss a second of the playoff action between the Dallas Mavericks and LA Clippers, so be sure to tune in and enjoy the game.