Dallas Mavericks: Luka Doncic leads in dominating win vs. Warriors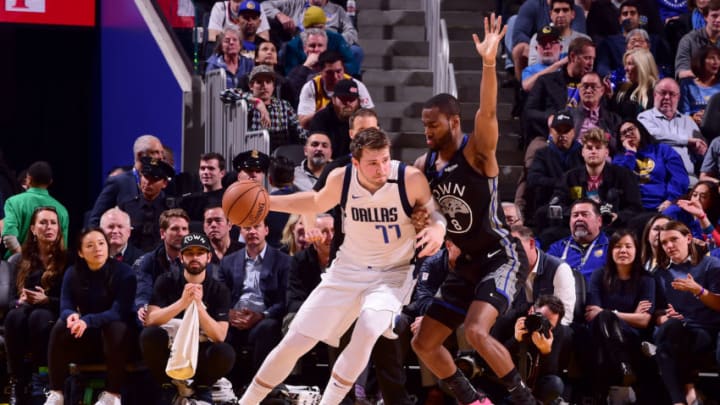 Dallas Mavericks Luka Doncic Copyright 2020 NBAE (Photo by Noah Graham/NBAE via Getty Images) /
Dallas Mavericks Luka Doncic Copyright 2020 NBAE (Photo by Noah Graham/NBAE via Getty Images) /
Best plays
Luka Doncic produced a handful of outstanding moments on Tuesday night. It was his worst game of the season against the Warriors which is just insane. Let us take a closer look at three of his best plays.
Takes Draymond to school
Draymond Green is one of the NBA's best defenders. The three-time All-Star won Defensive Player of the Year in 2017 and has made the All-Defensive teams five times. He was no match for stopping Luka Doncic in a one-on-one scenario, though. Here the 20-year-old takes him to the cleaners and hits a floater.
Doncic continues to do that to all of the best defenders. His elite deceleration and lateral speed make it nearly impossible to stay in front of him.
Eurostep
Luka has plenty of moves in his bag of tricks as well. That craftiness around the rim allows him to finish at 75.3 percent from zero to three feet which is an elite rate. Here Doncic uses a Eurostep to get an easy lay-in.
Catch and shoot
The Mavericks got Luka Doncic a wide open catch and shoot 3-pointer midway through the third quarter.
A lot is made about him shooting just 32.5 percent from deep, but it is important to remember that Luka is not taking many easy attempts. He fires 9.1 threes per game and only 1.5 are classified as wide open by NBA Stats. Taking the ball out of his hands for a few plays each night and letting him get open would make the percentage rise significantly.
Next: Highlight and more