Mavs News
Dallas Mavericks: 5 best Mavs moments of the last decade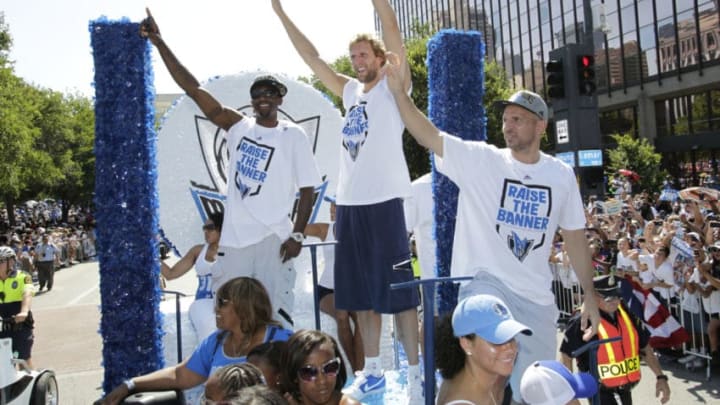 Dallas Mavericks Dirk Nowitzki Copyright 2011 NBAE (Photo by Glenn James/NBAE via Getty Images) /
Dallas Mavericks Dirk Nowitzki Copyright 2011 NBAE (Photo by Garrett Ellwood/NBAE via Getty Images) /
The Dallas Mavericks produced a plethora of memorable moments in the last decade. Here is a look at the top snapshots of the 2010s.
The Dallas Mavericks just went through the most important of the four decades of their existence. It was kicked off by the team reaching the pinnacle of professional hoops for the first time when they brought home the NBA championship to the city of Dallas.
Nothing lasts forever, though. The decade also saw the peak and graceful end of the face of the franchise. A figure so synonymous with his team and city that maybe no other athlete in all of sports history can match.
The 2010s had some scintillating highs and also some demoralizing low points. It featured free agent spurns, high-powered offenses, disjointed locker rooms, and historical milestones. Despite the dualism of the fan experience these last ten years, it will be the most fulfilling moments that fans will ultimately live on in MFFLs hearts and minds forever.
The franchise transitioned from champions to playoff competitors to tankers to a now promising young core built to make their mark in the 2020s. This past decade helped solidify an identity for the franchise that the organization hopes to build on going forward.
The people in charge, owner Mark Cuban, general manager Donnie Nelson and head coach Rick Carlisle, will aim to instill the lessons they've learned from those years into a locker room filled with fresh faces ready to make the next decade their own.
Before we move onto the start of a new era of Dallas Mavericks basketball, it is time to celebrate the things that made the last one so special. These are the best moments of the 2010s.
Next: Missed the cut