Dallas Mavericks: How to handle the upcoming 6 game stretch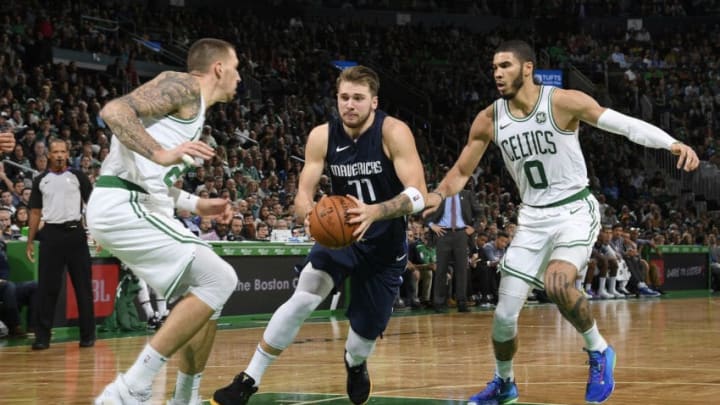 Dallas Mavericks Luka Doncic Copyright 2019 NBAE (Photo by Brian Babineau/NBAE via Getty Images) /
The Dallas Mavericks are preparing for a six-game stretch against six of the top nine teams in the Eastern Conference. This includes the current top five teams, played consecutively.
If ever there was a test for this Dallas Mavericks team to see if they can truly compete with the best teams in the league, it comes in the next 12 days. Starting this evening, the Mavs take on six of the top nine teams in the Eastern Conference over the next week and a half. They start that effort with a game against the Detroit Pistons, winners of six of their last 10 games.
The Pistons have looked pretty good lately, but they are the easiest opponent the Mavs will face during this stretch of Eastern Conference foes. After facing Detroit, the Mavericks will play the Miami Heat in Dallas, Milwaukee Bucks on the road, Boston Celtics back at home, and then the Philadelphia 76ers and Toronto Raptors on the road.
Incredibly, this means a four-game stretch of games against teams with a better record than the third place (in the West) Dallas Mavericks. The Heat, Bucks, Celtics and 76ers are all above 72% win percentage, while the Mavs are at 69.6%.
If Dallas can manage a 4-2 record during this stretch, it would be fantastic. They may be the team due to end the Bucks win streak, but they would absolutely need to be at their best to do so. Truthfully, a 3-3 record should still be viewed as a win for the Mavs who are currently 4-3 against teams over .500. With only seven games so far against winning opponents, the Mavs will have five such games in barely over a week.
This will be a great test for the West vs. the East as well, since the East has been winning the head-to-head so far this year. Dallas could give the West a fighting chance in the matchup if they can keep playing the way they're capable of playing. The West has been the much more competitive conference for many years, but the East may be on their way to changing that narrative based on how the two conferences are performing so far.
Dallas starts their long stretch of East foes tonight in Mexico against the Detroit Pistons. The game tips off at 8:00pm central time. Dallas will then have a game every other day the rest of the way through the East.