Dallas Mavericks: Luka Doncic named Western Conference Player of the Week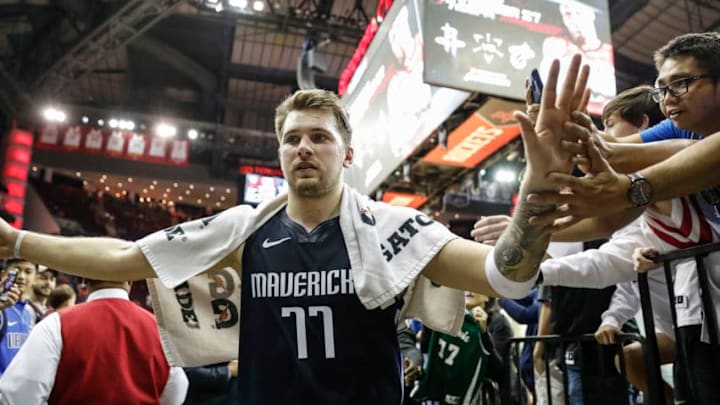 Dallas Mavericks Luka Doncic (Photo by Tim Warner/Getty Images) /
One honor that had surprisingly escaped Luka Doncic up to this point is a Western Conference Player of the Week award. The Dallas Mavericks star guard/forward can mark that one off a list that continues to grow shorter.
The NBA announced their conference Players of the Week earlier today and to the surprise of absolutely no one, Luka Doncic earned the title for the Western Conference. The Dallas Mavericks went 4-0 largely on the shoulders of Luka who had easily his most impressive week so far in his very short NBA career.
Across the four games, Luka Doncic was able to average an impressive 37 points, 8.5 rebounds and 11.8 assists per game. He also averaged 1.5 steals and shot over 55% from the field and over 44% from three. His free throw percentage went down just a little bit and his turnover numbers were a bit higher than you would prefer (4.5 per game), but overall it is hard to find fault from this week's play.
Luka helped lead the Mavs to a convincing win over the San Antonio Spurs and then a double-digit win over the Golden State Warriors, Cleveland Cavaliers and Houston Rockets. Luka played a clearly significant role in each of these games because Dallas led three of the four games wire-to-wire, meaning the Mavs jumped out to a substantial lead in the first minutes of the game.
Luka has been wildly impressive when his legs are noticeably fresh lately. He is scoring a vast majority of his points in the first and third quarters when he has had time to rest and be ready to hit the floor running. There's not much bad that can be said about this kid so far.
Luka also had two triple-doubles and two double-doubles this week and became the youngest player in NBA history to record four straight 30-point, 10-assist games. His rebound numbers came down just a little bit with only 13 combined between the Cavaliers and Rockets games. Despite this, Luka is still one of only 12 players in the league averaging double-digit rebounds.
Luka is the first Mavericks player to earn player of the week honors since J.J. Barea did it in 2016. This will likely not be his last time winning this award.
The Dallas Mavericks look to continue their hot streak on the shoulders of Luka as they have a tough stretch this week with the LA Clippers, Phoenix Suns and Los Angeles Lakers all on the schedule.