Dallas Mavericks: Luka Doncic continues historic run against the Cavs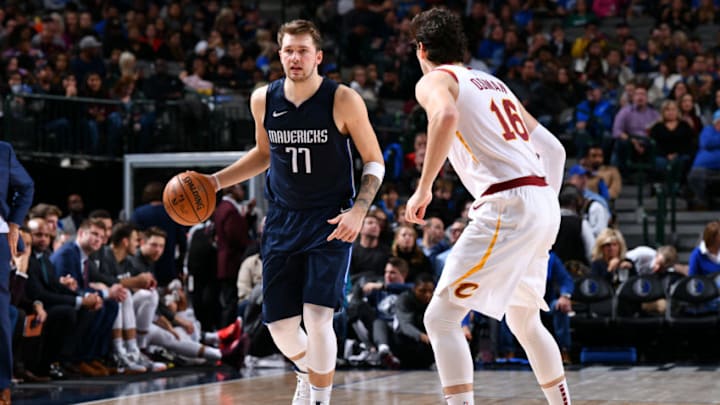 Dallas Mavericks Luka Doncic Copyright 2019 NBAE (Photo by Glenn James/NBAE via Getty Images) /
Dallas Mavericks star Luka Doncic had another magical performance as he led the team to a dominating victory over the Cleveland Cavaliers on Nov. 22.
The Dallas Mavericks may be the hottest team in the NBA right now. They had won three straight heading into Friday's game against the Cleveland Cavaliers inside the American Airlines Center. Luka Doncic is a nightly triple-double threat, and he is leading one of the most efficient offenses in the NBA.
The Cavaliers were no match for slowing down Dallas. The Mavericks got out to an early led and only made it worse in securing the 143-101 victory on Nov. 22. Coach Carlisle had the luxury of resting his starters in the fourth quarter because they were so far ahead. It was the second straight game that happened.
Doncic could not be stopped. He finished with 30 points, seven rebounds, and 14 assists in 28 minutes of action. Luka was 11 of 18 from the field, made four of his eight 3-point attempts, and hit all four of his free throws. His triple-double streak ended, but it was another magical performance from the 20-year-old.
Makes Mavs history
Luka Doncic had 30 points making it three straight games that put him in the Dallas Mavericks history books. See more below.
https://twitter.com/NBA/status/1198082448099303426
It has been an impressive run by the young star. He led the Mavs to victories in all four of their four-game homestand too.
Youngest to do it
Doncic also set a record for being the youngest player with three straight 30-point and 10-assist double-doubles on Friday.
Highlights
Fans searching for Luka's highlights from the blowout win over the Cavaliers should look no further.
Upcoming MVP candidate showdown
Luka Doncic will be leading the Dallas Mavericks into Houston to face the Rockets next time out. Sunday's game is a battle of MVP candidates as James Harden is playing out of his mind too. It should be a fun showdown.
Mavs fans should tune in because it promises to be an exciting game. It is difficult to bet against Dallas the way they are playing. Hopefully, they secure the difficult road victory against the in-state rival.