Dallas Mavericks: Kristaps Porzingis is already setting records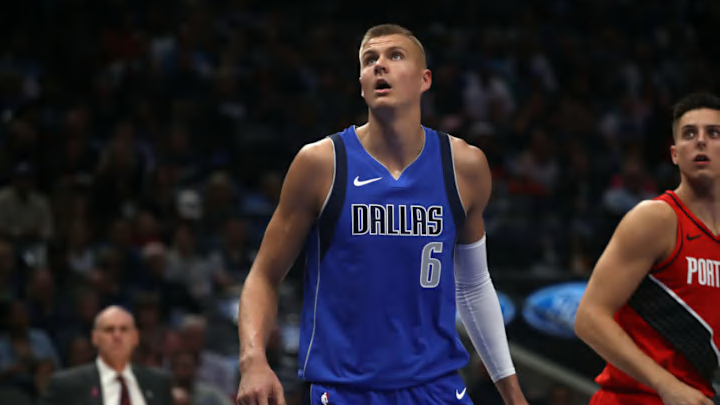 Dallas Mavericks Kristaps Porzingis (Photo by Ronald Martinez/Getty Images) /
Dallas Mavericks star Kristaps Porzingis broke an NBA record in Sunday's game against the Portland Trail Blazers. Find out more here.
The Dallas Mavericks dropped a heartbreaker against the Portland Trail Blazers on Oct. 27. Kristaps Porzingis had 32 points, and Luka Doncic chipped in 29, but it was not enough as the Blazers left Dallas with a 121-119 victory.
A late coach's challenge that overturned a foul called on Damian Lillard was the talking point after the game. That and the loss hid may positives from the Mavs. Doncic shot poorly, and yet Dallas had every chance to win against a team that made the Western Conference finals last season
Record breaking
Porzingis looks like he's getting back into top form. His 32 points were accompanied by nine rebounds, five assists, and two blocks against Portland. The Unicorn also made some history on Sunday evening. The Mavs shared the news with a KP highlight video on Monday.
That streak may not be stopping any time soon. Porzingis is averaging 7.3 3-point attempts per game this season. He has connected at a 39.6 percent clip over his last 250 threes. The odds of him not making one in a game are low.
KP also averages two blocks per game of his career. The Mavs are letting him patrol the paint meaning there will be plenty of block opportunities on a nightly basis.
Porzingis has exceeded my expectations so far. He is an All-Star and All-NBA caliber player, but KP had not played in an NBA regular season game in 20 months. I assumed he would start slow as he shook off some rust. That has not been the case. Porzingis is averaging 26.3 points, 5.7 rebounds, 3.3 assists, and 2.7 blocks in 31.0 minutes per game.
The Dallas Mavericks are building something special. 20-year-old Doncic and 24-year-old Porzingis are the foundation of the next championship contender in Dallas. They may still be two seasons away, but there will be plenty of entertaining basketball until then. Fans should be excited about the journey ahead.