Dallas Mavericks: Luka Doncic takes blame for first loss of the season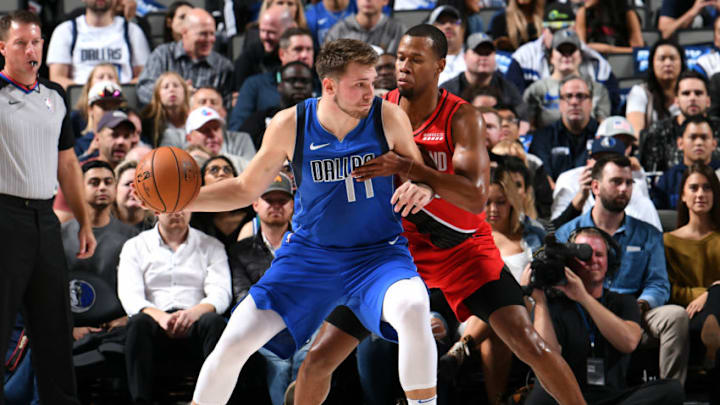 Dallas Mavericks Luka Doncic Copyright 2019 NBAE (Photo by Glenn James/NBAE via Getty Images) /
Dallas Mavericks star Luka Doncic took responsibility for the team's loss to the Blazers on Oct. 27 despite his near triple-double performance.
The Dallas Mavericks lost their first game of the 2019-2020 season on Sunday evening. The Portland Trail Blazers came to Dallas and escaped with a 121-119 victory. The game was a joy to watch and featured plenty of drama.
The NBA's new coach's challenge played a key role in the final moments as a foul called on Blazers star Damian Lillard was overturned. It was a massive swing in the game.
The Mavericks star duo once again produced. Luka Doncic finished with 29 points, 12 rebounds, nine assists, and three steals in 38 minutes of action. Here are his highlights from the game.
https://twitter.com/dallasmavs/status/1188659149795516416
Not to be outdone, Kristaps Porzingis had 32 points, nine rebounds, five assists, and two blocks in 34 minutes. That included a massive highlight reel of his own.
Doncic takes the blame for loss
In his postgame comments, Luka had this to say about falling to Portland.
Doncic finished eight of 22 from the field including two of 11 from 3-point range. Perhaps he did fall in love a bit too much with his step back three in the fourth quarter, but fans should remember that is what makes him great. His signature shot and his willingness to fire away.
It was a fantastic sign for the team that Doncic accepted the blame. That is what a star player does after a tough defeat. The Mavericks have a chance to do something special this season with Luka leading the charge.
It was a disappointing loss because the Mavs were so close, but it is time to move on. They have won two of their first three games including a narrow loss to a team that made the Western Conference finals last season.
Coming up
Dallas has two consecutive tough games on the horizon. They travel to Denver to face the Nuggets on Tuesday before returning home for a matchup against the Lakers on Friday. Both teams are expected to be in the thick of the Western Conference playoff race. A split of those two games would do wonders for the Mavs.
The Smoking Cuban will here with analysis on the Dallas Mavericks all season long, so checking back with us is a must for all diehard fans.