Dallas Mavericks roundtable: Who will win the NBA end of season awards?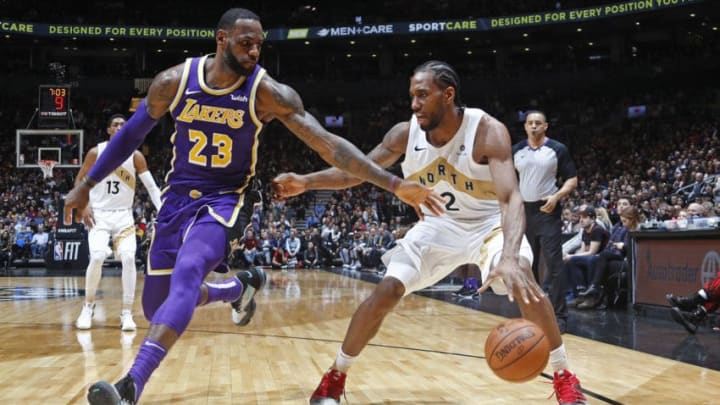 LeBron James Kawhi Leonard Los Angeles Lakers LA Clippers(Photo by Mark Blinch/NBAE via Getty Images) /
Stephen Curry Golden State Warriors (Photo by Chris Elise/NBAE via Getty Images) /
The NBA season kicks off today, so the staff at The Smoking Cuban decided to do some NBA Award predictions. Here are the picks for NBA MVP, Defensive Player of the Year, Rookie of the Year and more.
The NBA season begins today even though the Dallas Mavericks do not play their first game until tomorrow. For that reason, we have all come together to make our selections on who will be the award winners at the end of this NBA season. For the first time in a long time, there is quite a bit of discrepancy between each player and in each award.
Some of these were done a little while ago, including Rookie of the Year, so Zion Williamson may not be picked as frequently as he was in reality, but this is based on a healthy season from him.
Let'd jump right into it with the staff predictions for NBA MVP.
Most Valuable Player
Giannis Antetokounmpo
"Giannis Antetokounmpo. We have not had a back-to-back MVP winner since Steph Curry did it in the 2015 and 2016 seasons, but I think Giannis is in the perfect position to pull it off. The Milwaukee Bucks have constructed the perfect complimentary roster for him while still leaving him as the only clear-cut superstar on his team. The Bucks should once again finish with a top 5 record in the NBA and Giannis will pick up his second straight MVP." –Sean Bush
"Giannis Antetokounmpo. I genuinely think we have not seen the best version of the Greek Freak yet. Giannis hasn't turned 25 years old yet and has an MVP season under his belt. This award is his to lose." –Keatn Rast
Steph Curry
"This may have me leaning very close to the common bias being held around the league right now, but I think Stephen Curry is the clear candidate for MVP. I wouldn't necessarily disagree with you if you said it would be anybody else. At this very moment though, Curry looks very clear to take the trophy. Curry has the largest load of the teams expected to make a postseason run." –Arsal Hussain
Giannis Antetokounmpo Milwaukee Bucks (Photo by Stacy Revere/Getty Images) /
"Last season was a two-person race for MVP. In 2017, the notorious campaign, it seemed like there were three players in serious contentions for the prestigious award. This season feels like four or five players can win it. Stephen Curry has the case to win it off narrative, and the potential to average 30 without Klay Thompson and in light of Kevin Durant's departure. " –Lance Roberson
"This is most likely a popular opinion among most NBA fans and writers, but I will have to trust my gut instinct and go with Stephen Curry. I think the reasons are pretty obvious. We all know Curry is a willing passer on top of being one of the best scoring guards the league has ever seen. That being said, I'd not be surprised to see Curry have his best scoring year ever. As long as the Warriors are still relevant in the Western Conference standings, I do not see how Curry is not the front-runner for this award. Personally, I look for Curry to score more than 33 points per game this year." –Josh Gamel
"With Kevin Durant gone, and Klay Thompson out of the picture for at least half the season, Curry is now squarely the focus in Golden State. Over the course of his career, we have seen Curry dominate as the main engine of the team when others are absent. Draymond Green's presence keeps at least some of the defensive mindset on the team intact, allowing Curry to flourish on the offensive end. Shaun Livingston's retirement will also force Curry to play more minutes than ever. This will be his biggest year yet." –Evan Siegel
James Harden
"The MVP award is rarely given to the best all-around player in the NBA and is instead awarded to the best offensive player in the league. As dominant as Giannis was last year, I feel that James Harden was the best offensive player in the league. Now that Giannis has won it, it is even harder to repeat, so I have my money on the high-scoring, bearded wonder, James Harden." –Kohl Rast
Nikola Jokic
"Nikola Jokic. With the depth and continuity of the Nuggets, they could end the season with the best record in the West. Jokic is one of the best passing centers in the league and if he has another season with 20+ points per game, 10 rebounds, and 7 assists, I think it's going to be hard to give it to anyone else." –Charles Allen