Dallas Mavericks: Dwight Powell a finalist for NBA Community Assist Award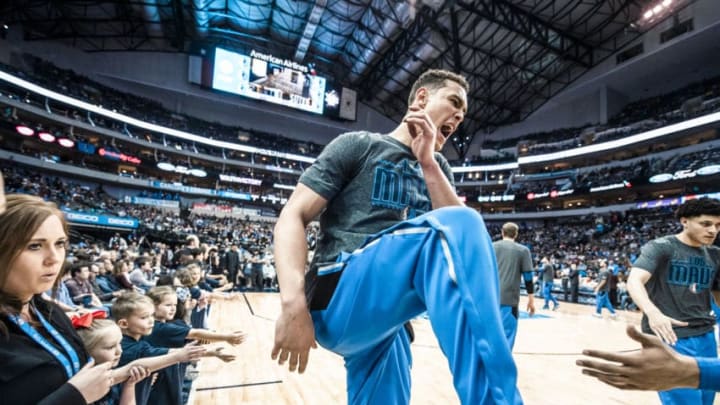 Dallas Mavericks Dwight Powell Copyright 2019 NBAE (Photo by Sean Berry/NBAE via Getty Images) /
The Dallas area has been blessed by some great men over the years. Many guys for the Dallas Mavericks have gone above and beyond to serve the surrounding community and Dwight Powell is a name that should be near the top of that list.
We could sit here for hours and talk about the many great things that Dallas Mavericks of past and present have done for the Dallas community over the years. We have been so spoiled by the likes of Dirk Nowitzki, Devin Harris, Harrison Barnes and others that it seems almost second nature to have a guy that is fully invested in the people of Dallas.
Those guys are not what we are here for, though. The reason we are even talking about it right now is because Dwight Powell has been nominated for the NBA Community Assist Award, the award given to the player who goes above and beyond to serve his community. Some great players have won this award in the past and Powell would join that list comfortably if he were to win.
Powell has been named a finalist for the award primarily because of the work he has done through fundraisers and other projects that have created The Dwight Powell Children and Family Support Fund. The main goal of this is to provide help, support and resources for people suffering from cancer in the area at this time.
Powell has hosted multiple events to help these families gain a support group and see that there are people out there doing whatever they can to help. Powell's mission to help as many people as he can stems in large part from him losing his mother to cancer several years ago.
Aside from just his work with those suffering from cancer, Powell also does some other work in the community. One of the things that has always stuck out to me is when he and Devin Harris travel around the metroplex at Christmas time and pay for children's toys that have been put on layaway. He has also helped with some of the Thanksgiving events the team has worked on, providing meals for those who need it.
Powell is one of 10 finalists for the award, joined by Jarrett Allen of the Brooklyn Nets, Bradley Beal of the Washington Wizards, Mike Conley of the Memphis Grizzlies, Tobias Harris of the Philadelphia 76ers, LeBron James of the Los Angeles Lakers, Damian Lillard of the Portland Trail Blazers, Khris Middleton of the Milwaukee Bucks, Donovan Mitchell of the Utah Jazz and Pascal Siakam of the Toronto Raptors.
The award winner will be announced in the summer, but voting is going on currently. To cast your vote for Dwight Powell, visit this link. Thank you for everything you to do for the Dallas community and the Dallas Mavericks, Dwight. You will always be an MFFL.