Dallas Mavericks: Breaking down the roster going into 2019-20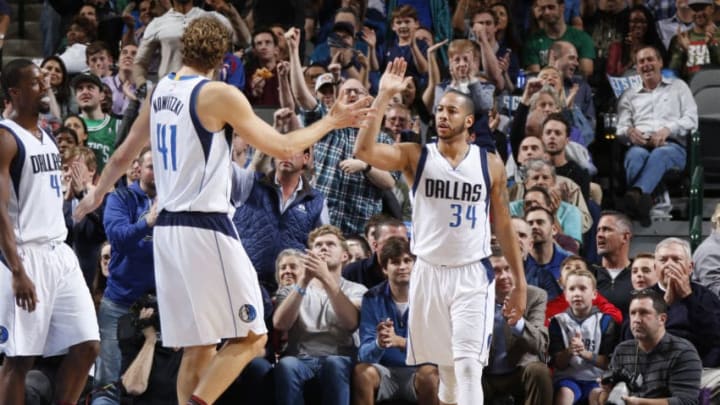 DALLAS, TX - FEBRUARY 13: Dirk Nowitzki #41 and Devin Harris #34 of the Dallas Mavericks celebrate during a game against the Boston Celtics on February 13, 2017 at American Airlines Center in Dallas, Texas. NOTE TO USER: User expressly acknowledges and agrees that, by downloading and/or using this photograph, user is consenting to the terms and conditions of the Getty Images License Agreement. Mandatory Copyright Notice: Copyright 2017 NBAE (Photo by Danny Bollinger/NBAE via Getty Images) /
LOS ANGELES, CA – OCTOBER 31: The Lakers' Brandon Ingram #14 shoots as the Mavericks' Maximilian Kleber #42 and Dorian Finney-Smith #10 defend during their game at the Staples Center in Los Angeles Wednesday, Oct. 31, 2018. The Lakers defeated the Mavericks 114-113. (Photo by Hans Gutknecht/Digital First Media/Los Angeles Daily News via Getty Images) /
Likely Returning
Dwight Powell – Before the All-Star Break, I would have said the Mavs would do just about anything to get Powell's $10 million contract off the books going into this summer. With a player option and a seemingly outlandish amount of money owed to Powell, it seemed highly unlikely that Dallas was going to be able to move him any time soon.
Now, although his status of "likely returning" has not changed, the circumstances surrounding him have changed drastically. Instead of a burden on the roster with $10 mil on the books, Powell has become a key player for the team and someone the Mavs would be crazy to not want back next year. Whether that is with the player option or through a new contract, I think Powell is here to stay in Dallas.
Maxi Kleber – This whole section is just the surprise group from Dallas. All three of these guys went from questionable players going forward to guys that will earn some serious money this summer. No one on the team has been a bigger surprise than Maxi Kleber has throughout this season.
Kleber has become a solid shooter over the course of this season, shooting 45% from the field, 35% from three and just under 80% from free throw. The real growth, however, has been on the defensive end, where Kleber has proven to be a more than serviceable on-ball defender as well as an above average rim protector. If he can keep these things up, he will have a spot on the Mavs roster for years to come.
Dorian Finney-Smith – After a nice rookie season, Dorian Finney-Smith fell victim to the injury bug and missed a vast majority of his 2nd year. With his final year under contract on its way, many were wondering if Dodo would be able to prove his worth on a roster hoping to make a playoff run. Those doubts are gone now, as Dorian has shown not only that he is the Mavs best wing defender, but also that his shooting stroke continues to improve.
Going forward, the Mavericks would love to be able to hold onto Dodo as a key player off the bench. His defense and high energy will be very helpful for the team and there is no doubt that he belongs on an NBA roster with a solid contract on the books.
Next: Up in the Air