Three New Year's resolutions for the Dallas Mavericks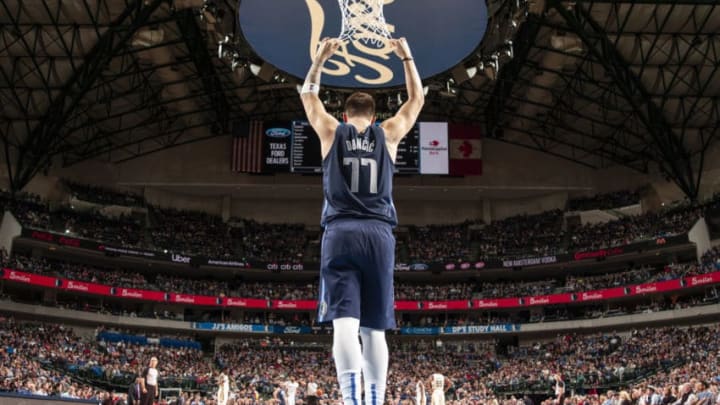 DALLAS, TX - DECEMBER 26: Luka Doncic #77 of the Dallas Mavericks celebrates after play against the New Orleans Pelicans on December 26, 2018 at the American Airlines Center in Dallas, Texas. NOTE TO USER: User expressly acknowledges and agrees that, by downloading and or using this photograph, User is consenting to the terms and conditions of the Getty Images License Agreement. Mandatory Copyright Notice: Copyright 2018 NBAE (Photo by Glenn James/NBAE via Getty Images) /
DALLAS, TX – DECEMBER 26: Luka Doncic #77 of the Dallas Mavericks celebrates after play against the New Orleans Pelicans on December 26, 2018 at the American Airlines Center in Dallas, Texas. NOTE TO USER: User expressly acknowledges and agrees that, by downloading and or using this photograph, User is consenting to the terms and conditions of the Getty Images License Agreement. Mandatory Copyright Notice: Copyright 2018 NBAE (Photo by Glenn James/NBAE via Getty Images) /
The Dallas Mavericks have kicked off the new year in a great way with a blowout win on the road against Charlotte. What should the team be focused on in the new year to be the best team they can?
It is a good thing to set goals for yourself. Whether or not you achieve those goals is not as important as the act of setting them, because we should never be completely satisfied with where we are. The Dallas Mavericks (and all NBA teams) should be the same way.
When it comes to changes that need to be made to make an entire program better, they're usually not too hard to find. Even the immaculate Golden State Warriors know they have things they should really improve on, and have throughout their entire run.
The Mavs are currently sitting at 18-20 as we approach the halfway mark of the season. There are some obvious things that Dallas really needs to fix that we all know about, including finding ways to win on the road, doing better in back-to-back games and solving the rotation concerns that have left the team in disarray as of late.
These New Year's resolutions are a little more focused on things that the Mavs have had success in, either this year or in years past. If Dallas is able to make these three things a focus for the team as the season progresses, they could have a strong finish to the season. Particularly the third resolution will really help the team make the playoffs by the end of the year.
These are not the only resolutions the Mavs should set for the year as there are plenty of other things that the team needs to improve on. That said, these are a few things that should definitely make the list.