Dallas Mavericks: Luka Doncic has been on a tear recently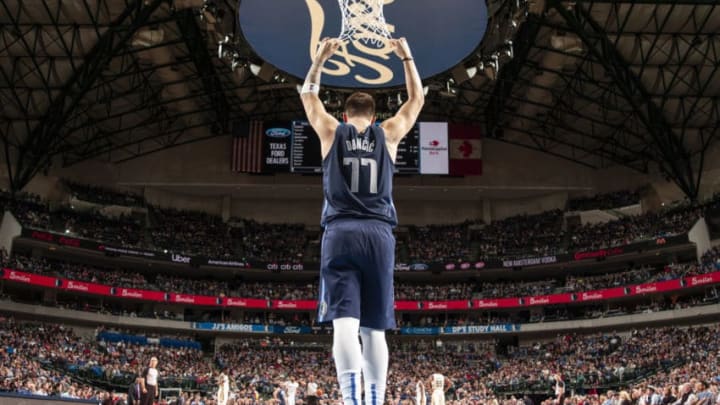 DALLAS, TX - DECEMBER 26: Luka Doncic #77 of the Dallas Mavericks celebrates after play against the New Orleans Pelicans on December 26, 2018 at the American Airlines Center in Dallas, Texas. NOTE TO USER: User expressly acknowledges and agrees that, by downloading and or using this photograph, User is consenting to the terms and conditions of the Getty Images License Agreement. Mandatory Copyright Notice: Copyright 2018 NBAE (Photo by Glenn James/NBAE via Getty Images) /
Luka Doncic has been really good for the Dallas Mavericks all year. However, his last seven games and 10 of his last 12 have been truly something special to watch.
Going into the month of December, Luka Doncic was a clear cut favorite to win the NBA Rookie of the Year and to take over as the face of the Dallas Mavericks franchise. At that time, he was averaging 18.5 points, 6.5 rebounds and 4.3 assists per game, plus 1.1 steals. That is an excellent stat line no matter who you are.
Since then, however, Luka has been even better, taking over in a bunch of games throughout the month of December. His averages for the month of December alone are 20 points, 7.1 rebounds and 6.5 assists per game. Although his shooting percentages have been declining, his ability to get to the free throw line has been impressive. It is showing his willingness to do what it takes to get his points.
Luka did not come to the league projecting to shoot 50% from the field and 40% from three or anything like that, so his leveling out in percentages this month has not been all that surprising for most of us. The fact that his scoring numbers have gone up while his percentages have gone down and his field goal attempts have stayed the same is actually pretty incredible.
Despite his recent success, we do need to see an improvement at the three-point line for Luka. He started the season at a blistering 40% through his first 19 games, but that has slowed down to 36% for the season now, shooting only 30% since that 19 game stretch. If he can level out to somewhere around 38%, it would be very big for this team.
Still, over the past eight games, Luka has had totals of 24, 13, 28, 23, 32, 19, 23, 21. That is a solid couple weeks of basketball and he seems to be ready to continue on that great play going forward. He has played well against solid opponents and good defenders during this run and no one has really been able to stop him in any major way.
The thought that Luka is a great scorer is probably one that has crossed your mind recently and you would be correct about that. The game of basketball is all about points in its simplest form, but when you get past the basics of peewee basketball, rebounding and passing and defense are just as important. Luka is at least good at all of those things.
For one, he is already an above average passer and getting better everyday. Luka is averaging 7.6 assists over the past nine games and that number looks like it could keep going up with the way he and DeAndre have found a groove together on the court. His rebounding is improving and he has done well as a weak-side rebounder, helping the bigs who are boxing out.
As far as defense goes, I wouldn't expect Luka to ever become an elite defender, but he is averaging 1.2 steals over the past 8 games and 1.1 for the season, good for 2nd best among rookies. He has blocked a hand full of shots throughout the season as well, but he really has proven to be good at reading other players and getting into passing lanes.
Luka has been even better than advertised, something that many of us did not believe would be a possibility. At 19 points per game, Luka is 32nd in the league currently. He is 7th among small forwards in rebounds per game and 3rd in assists. Things are looking awfully good for the Mavs and for Luka. Let's hope the rookie continues to show what he is capable of.