Dallas Mavericks: Two matchups to watch for against Spurs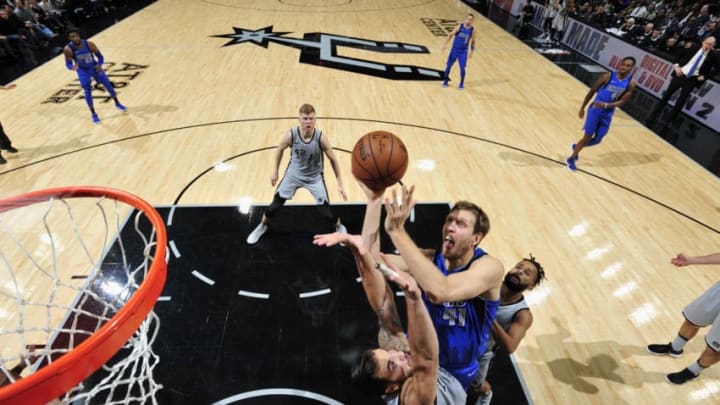 ANTONIO, TX - DECEMBER 16: Dirk Nowitzki #41 of the Dallas Mavericks goes to the basket against the San Antonio Spurs on December 16, 2017 at the AT&T Center in San Antonio, Texas. NOTE TO USER: User expressly acknowledges and agrees that, by downloading and or using this photograph, user is consenting to the terms and conditions of the Getty Images License Agreement. Mandatory Copyright Notice: Copyright 2017 NBAE (Photos by Mark Sobhani/NBAE via Getty Images) /
ANTONIO, TX – DECEMBER 16: Dirk Nowitzki #41 of the Dallas Mavericks goes to the basket against the San Antonio Spurs on December 16, 2017 at the AT&T Center in San Antonio, Texas. NOTE TO USER: User expressly acknowledges and agrees that, by downloading and or using this photograph, user is consenting to the terms and conditions of the Getty Images License Agreement. Mandatory Copyright Notice: Copyright 2017 NBAE (Photos by Mark Sobhani/NBAE via Getty Images) /
The Dallas Mavericks and San Antonio Spurs face-off tonight as the interstate rivalry starts its next chapter. There are a couple different matchups worth keeping an eye on tonight.
One of the biggest rivalries in the NBA just happens to take place among two teams in the state of Texas. The Dallas Mavericks and the San Antonio Spurs have one of the most hard fought rivalries in sports. The Mavs and Rockets have had some tough games and the Spurs and Rockets are the bigger rivalry in today's NBA but little compares to this one.
In the early years of the Mavs franchise, the Spurs were a very tough team. Led by legendary shooting guard and Hall of Famer, George Gervin, the Spurs were the 2nd best team in the Western Conference the year the Mavs became a franchise.
Despite the Mavs winning only 15 games and holding the worst record in the league, Dallas beat the Spurs in the very first game of the season and for the franchise. That was the perfect start to a bitter rivalry.
Once the late 1990's came around, the Spurs really lucked out, snagging David Robinson first and then Tim Duncan after that. This made the team an immediate threat and the Spurs began one of the most dominant presences over multiple years that the NBA has ever seen.
And yet, the Mavs weren't too far behind. By the turn of the century, Dallas had drafted Dirk Nowitzki, acquired Steve Nash and then Jason Kidd and turned the organization into a major threat for the title years in a row. Bad luck and missed opportunities hit over and over again until finally Dallas broke the curse and won the title in 2011. The Spurs were always hovering close by.
The rivalry has lost a little bit of its excitement now, as the only person still around from the glory days of San Antonio is Gregg Popovich. The Mavs still have Dirk Nowitzki, but he isn't even active for this one. This rivalry needs new life and the team can do that this year.
Here are a couple matchups to keep an eye on tonight.