Dallas Mavericks: Three story lines to follow in matchup vs. Raptors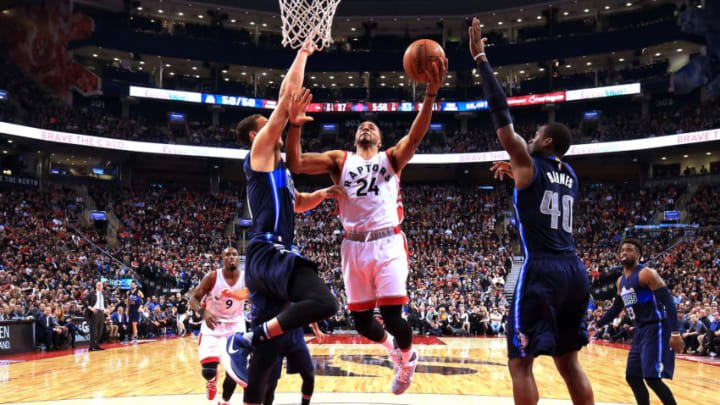 TORONTO, ON - MARCH 13: Norman Powell #24 of the Toronto Raptors shoots the ball as Dwight Powell #7 and Harrison Barnes #40 of the Dallas Mavericks defend during the first half of an NBA game at Air Canada Centre on March 13, 2017 in Toronto, Canada. NOTE TO USER: User expressly acknowledges and agrees that, by downloading and or using this photograph, User is consenting to the terms and conditions of the Getty Images License Agreement. (Photo by Vaughn Ridley/Getty Images) /
SHENZHEN, CHINA – OCTOBER 08: #7 Dwight Powell of the Dallas Mavericks in action during the 2018 NBA China Games match between the Dallas Mavericks and the Philadelphia 76ers at Universidade Center on October 8, 2018 in Shenzhen, China. NOTE TO USER: User expressly acknowledges and agrees that, by downloading and/or using this Photograph, user is consenting to the terms and conditions of the Getty Images License Agreement. (Photo by Zhong Zhi/Getty Images) /
Dwight Powell great inside the arc
Since we mentioned the fact that DeAndre Jordan is the NBA leader in field goal percentage in history, I thought we could talk a little bit about the Mavs other center, Dwight Powell.
As of now, Powell is leading the league in two-point field goal percentage at an even 90%. Since he does fire up the occasional three as well, Powell's actual field goal percentage is lower than 90% and subsequently lower than Damian Jones of the Golden State Warriors. Either way, Powell is shooting the ball exceptionally well so far this year.
In order to stay at the top of the league, Powell won't need to change anything. His connection with J.J. Barea around the rim is borderline unstoppable at this point. While finishing around the rim used to be a weakness for the young big man, he is actually very crafty with the ball and good at contorting his shot to give it the best chance of scoring.
Powell definitely needs to continue to improve his three-point shot, but if he can find it, he will be a key contributor on offense this year. As a member of the second unit, Powell rarely sees the top level shot blockers from around the league. This just adds more fuel to the fire.
As of now, Powell is averaging 5 two-point attempts per game. He is making 4.5 of those attempts. That seems like a pretty good ratio and a pretty good plan moving forward.