Dallas Mavericks show love and respect to retiring Manu Ginobili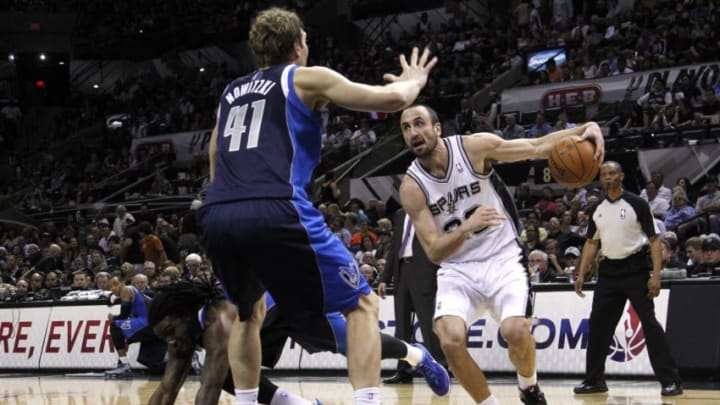 Dallas Mavericks Manu Ginobili Dirk Nowitzi (Photo by Chris Covatta/Getty Images) /
The Dallas Mavericks and their players paid tribute to future Hall of Famer Manu Ginobili as he announced his retirement on Aug. 27.
The Dallas Mavericks and their fans saw a rival retire after 16 NBA seasons on Monday.  San Antonio Spurs legend and future Hall of Famer Manu Ginobili announced via Twitter that he was hanging up his shoes.  You can read the full post here.
Career versus Dallas
Ginobili played 1057 career regular season games in the NBA, and 50 of those came against the Mavericks.  Fun fact, the Mavs are the only team that Manu shot under 40 percent from the field against during his career.  Ginobili still played well against Dallas averaging 12.8 points, 4.0 rebounds, and 3.9 assists per game.
The Spurs and Mavericks also matched up for four playoff series during Manu's time in San Antonio.  Ginobili played a total of 26 postseason games against Dallas.  The Spurs won three of the four series, and Manu lead San Antonio in the 2010 Western Conference first-round set.  He averaged 19.0 points, 3.7 rebounds, 5.0 assists, and 2.3 steals per game to help the Spurs win in six games.  Ginobili had the Mavericks number that season.
Mavs pay tribute
The Dallas Mavericks official Twitter account congratulated Manu on his great career.  You can check out the Tweet here.
Mavs legend and fellow future Hall of Famer Dirk Nowitzki sent out the following Tweet to honor Ginobili.
Mavericks' rookie Luka Doncic also sent out a Tweet showing respect to Ginobili.  You can see the post here.
Doncic, Dirk, and Manu all share an overseas connection.  Ginobili is from Argentina which is in South America, not Europe.  Odd as Manu was the master of the Euro Step.
Still, it was a fantastic career worthy of both the Hall of Fame and plenty of praise.  Thanks for all the enjoyment Manu.  Your unselfish play will be missed.
The Smoking Cuban strives to be the place for diehard Dallas Mavericks fans to enjoy the content that they cannot find anywhere else.  Please check back to us often for all the opinions and analysis that you desire.  Thank you for reading.