Dallas Mavericks Fall to Aaron Gordon and the Magic, 105-100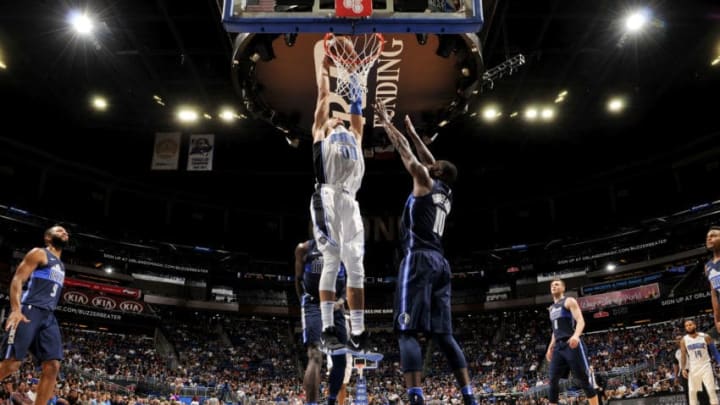 ORLANDO, FL - APRIL 4: Aaron Gordon /
In a tight contest between two teams jostling at the bottom of the standings, the Magic prevailed over the Mavericks 105-100. Both teams played short-handed with key players resting due to injury.
Aaron Gordon and Mario Hezonja, two soon to be free agents, showed flashes of brilliance that will make them coveted players this summer. Gordon poured in 16 of his game high 20 points in the first quarter alone, throwing down three dunks and showcasing his improved range by hitting two threes. On the other hand, Hezonja compiled a box score stuffing line of 12 points, 8 rebounds, 4 assists, 2 steals and 3 blocks, including this slick dime below.
With the dunk above, the Magic took a lead that they didn't relinquish for the rest of the game. Although the Mavericks kept the contest close throughout, Dorian Finney-Smith missed a three with two minutes remaining (with the score at 96-97) that would have finally put Dallas ahead.
For the Mavericks, Jalen Jones led with 16 points off the pine. Other nightly notables include G-League standout Johnathan Motley with 14 points and 8 rebounds (in his career's first NBA start) and Kyle Collinsworth with 13 points, 9 rebounds and 6 assists.
Familiar names Harrison Barnes (rest), Dennis Smith Jr. (sore knee), Dwight Powell (left knee bursitis) and Dirk Nowitzki (ankle) all sat out the contest with minor ailments.
Unfortunately, J.J. Barea, who started in place of Smith, picked up an injury of his own after tweaking his oblique. Although the injury is not considered serious, the veteran has been ruled out for the remainder of the season.
Looking Ahead
The Mavericks have two games remaining on this road trip before concluding the season at home against the Suns. Dirk, who has not accompanied the team, will presumably stay in Dallas while he rests his sore ankle. Rick Carlisle told the media that an update on the Big German's status will come tomorrow. We certainly hope that Dirk will be able to rest up before the season finale at home.
Next: Should Dallas Pursue Hassan Whiteside...Again?
Next up, the Mavericks travel to Detroit to face Andre Drummond and the Pistons at 5 p.m. CT on April 6th.