The Dallas Mavericks Lose Steam Late In 98-87 Loss at Cleveland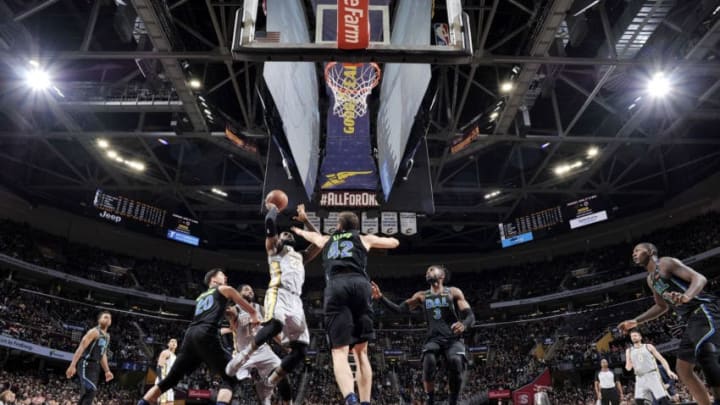 CLEVELAND, OH - APRIL 1: LeBron James /
Even on a night when LeBron James could not find his shot, the Dallas Mavericks fell short in the fourth quarter of a 98-87 loss to Cleveland.
The Dallas Mavericks gave the Cleveland Cavaliers (47-30) everything they had, for three and a half quarters, but eventually suffered a 98-87 loss Sunday night.
Dallas (23-54) has now lost three straight games and sits at No. 13 in the Western Conference, with five games remaining in the regular season. This loss gives Cleveland the 2-0 season series sweep. The win prevents Cleveland from dropping into fifth-place in the Eastern Conference.
Breakdown
As many expected, the contest had all the looks of a trap game early on. Cleveland came out a bit lethargic while Dallas played spirited basketball, taking command early in the first period.
Defensive lapses by the Cavaliers led to easy baskets and highlights, much like this Dennis Smith Jr. spin move followed by an emphatic dunk:
Dallas closed out the quarter with a 25-18 lead. Cleveland fought their way back, posting a 30-point second quarter.
The Mavericks responded with a 30-point quarter of their own, regaining control of the game in the third period. Led by Harrison Barnes, the Mavs headed into the closing quarter with a 77-73 lead and all the momentum.
Dallas held an 81-77 lead at the 10:13 mark in the final period. Cleveland went on to run off 13 straight points, which essentially is all they needed to seal the comeback victory. Dallas was held to 10 points the entire quarter.
More from The Smoking Cuban
Rebounding and three-point shooting proved to be the difference this game. The Cavaliers dominated the boards with a 50-38 advantage while shooting 42 percent from distance.
Stats
Harrison Barnes had an exceptional night, leading all scorers with 30 points to go along with five assists and three rebounds. Barnes found his groove from behind the arc, converting on 5-of-10 attempts. Smith Jr. was the only other Mavericks player in double digits, totaling 14 points, six assists and four rebounds.
Dirk Nowitzki and Doug McDermott each added nine points, with Dirk grabbing seven rebounds. Nerlens Noel went scoreless in 17 minutes, but pulled down seven rebounds while adding a steal and block.
James led Cleveland with his 17th triple-double of the season, producing 16 points, 13 rebounds and 12 assists. Jordan Clarkson and J.R. Smith added 16 and 15 points respectively while Kevin Love was solid with 13 points and 13 rebounds.
Next: Should Dallas Pursue Hassan Whiteside…Again?
Next Up
Returning to the Western Conference, Dallas welcome Portland, Damian Lillard and the third-place Blazers (48-29) Tuesday night. Game time is set for 8:30 p.m. ET. Be sure to follow The Smoking Cuban on Twitter at @thesmokingcuban, for live score updates, analysis and game highlights. As always, go Mavs!