Everything Leads to the Summer of 2018 for Dallas Mavericks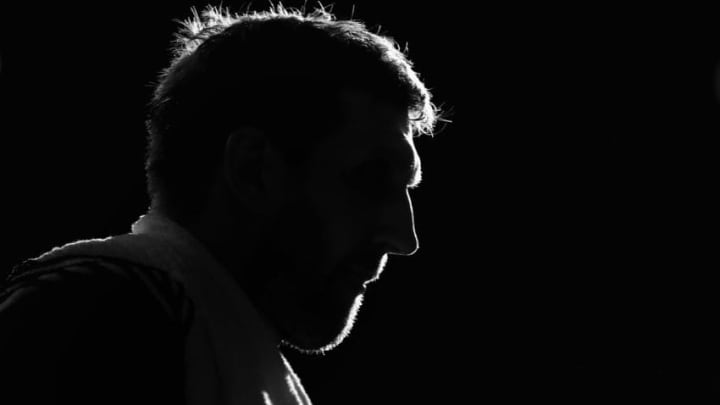 PHOENIX, AZ - JANUARY 31: (EDITOR'S NOTE: THIS IMAGE HAS BEEN CONVERTED TO BLACK AND WHITE) Dirk Nowitzki /
After a small move at the deadline, all signs point towards a big summer for the Dallas Mavericks in 2018.
The past two years in Dallas continue to lead to the summer of 2018.
Thursday marked the NBA Trade Deadline where the Dallas Mavericks pulled off an excellent move for the future when they moved the expiring contract of Devin Harris for 26-year-old Doug McDermott and a second round pick.
McDermott is a restricted free agent this summer, therefore allowing the Mavericks to preserve all of their cap space heading into the summer.
Something they considered not doing.
On deadline day, Mavericks General Manager Donnie Nelson, spoke to us media where he admitted that the Mavericks were a "popular destination" for teams looking to shed contracts.
"We were a popular destination for folks that were looking to gain flexibility for themselves," Nelson said when I asked him about the impact upcoming cap space had on their deadline moves.
"We fielded quite a few calls. We also value that quite a bit. The flexibility that we have today with the picks and Doug and the flexibility moving forward I think there is a real opportunity for us to be active in the free agency market this summer and add maybe another building block or two."
So the Mavericks elected to not take on future salary (with assets attached) because they wanted to preserve that flexibility this summer. Something that some Mavs fans are all too familiar with as the Mavericks have notably chased and missed on big free agents in the past.
"I think there is a real opportunity for us to be active in the free agency market this summer and add maybe another building block or two" -Donnie Nelson
But this summer is different.
This year, five teams are projected to be in the luxury tax at the end of the year. Next season, there is already 12 other teams.
"Next season, 12 teams are currently projected to be in luxury tax territory, and another handful could easily get there by re-signing their key free agents," ESPN's Bobby Marks said in his latest salary cap piece for ESPN.
Marks goes on to explain how this summer, there are only seven teams projected to have over $10 million in cap space and only five teams with over $20 million in cap space.
The five teams: Hawks, Bulls, Lakers, Sixers and the Dallas Mavericks.
Then you factor in the teams that are still in a rebuild mode that might not want to hand out a big contract or might not be lucrative to a bigger name on the market. For Dallas, they still have Harrison Barnes and a new rookie point guard that everyone seems to love across the league.
"We got some good young building blocks. Everyone sees Dennis Smith as one of those and Harrison Barnes," Nelson said. "It is no secret Dirk's getting close. Who knows when that time will come. We have to be prepared for that."
Now, the Mavericks head into the summer looking to add one or two building blocks to their young core.
DeMarcus Cousins is the obvious big name everyone likes to throw out, but there are also a handful of young, restricted free agents that Dallas could go chasing to pair with their young core. Guys like Jabari Parker, Aaron Gordon, Julius Randle, and Rodney Hood are just a few to mention.
Dallas could use their cap space and flexibility to make it difficult for those teams to retain them.
That flexibility means everything for the Mavericks and it's not just about free agency.
Wesley Matthews will most likely pick up his player option where he will make $18.6 million next season. He will then become an expiring contract that could be very useful on the trade market. They also own all of their first round picks moving forward and acquired another one today in the deal for Doug McDermott.
"These two new additions. There is opportunity for flexibility there," Nelson said on acquiring McDermott and the 2018 second round pick. "Grabbing another young asset there or packaging and moving up. When you are in the mode that we are, those things are important. Young players that have upside and picks."
More from The Smoking Cuban
Now, Dallas will own their own first round pick in 2018 that looks to be in the top ten on draft night. They will also own their own second round pick and Portland's second round pick in 2018. This could very well give them three draft picks in probably the top 45 of the draft.
Those draft picks came in high demand at the trade deadline this year.
"Picks verses flexibility I think today really spoke volumes. There was only one first round pick that was moved. I think flexibility will be as valuable, if not more valuable, as picks moving forward. We put a big onus on that," Nelson said.
The Mavericks will define flexibility this summer.
They will have one pick inside the top ten to go along with two second round picks. Add in over $20 million in cap space, expiring contracts like Wesley Matthews and J.J. Barea, and young building blocks like Dennis Smith Jr. and Harrison Barnes.
Could they use their cap space to absorb a contract with another young asset or pick attached? Could they use their second round picks to package together and move up in the draft? Could they use their cap space to go after a big restricted free agent or even DeMarcus Cousins?
Next: Devin Harris Will Probably Be Back This Summer
The possibilities are endless for Dallas this summer and we could look back years down the road to remember the summer of 2018 as one of the most crucial summers in franchise history.