Mavs News
Three New Year's Resolutions for Dallas Mavericks Fans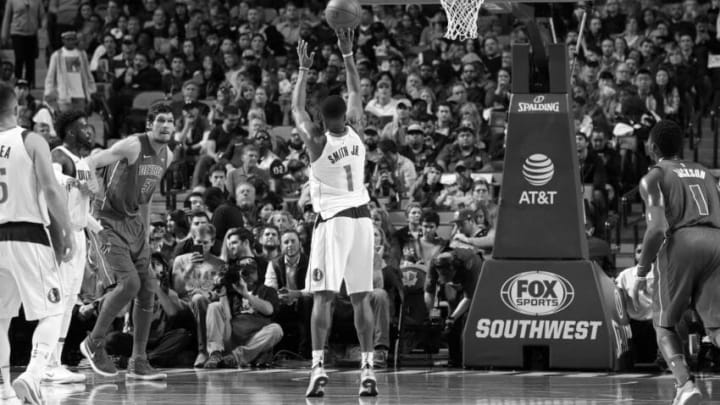 DALLAS, TX - DECEMBER 20: (EDITORS NOTE: Image has been converted to black and white.) Dennis Smith Jr. #1 of the Dallas Mavericks shoots a foul shot during the game against the Detroit Pistons on December 20, 2017 at the American Airlines Center in Dallas, Texas. NOTE TO USER: User expressly acknowledges and agrees that, by downloading and or using this photograph, User is consenting to the terms and conditions of the Getty Images License Agreement. Mandatory Copyright Notice: Copyright 2017 NBAE (Photo by Danny Bollinger/NBAE via Getty Images) /
The Dallas Mavericks seem to be making some changes just before the start of 2018, and many of them look to be paying off already. So what New Year's resolutions do the MFFLs need to make to have an impact on 2018?
We all have our New Year's resolutions for 2018 ready to go. Some of us are trying to lose weight, others may be looking for love, and some of us may be wanting to dedicate more time to those we love most, whether it be your significant other, your kids, or Dirk Nowitzki.
Whatever it is, the New Year is a great time to prepare to make some changes in your life. I for one have made it a personal goal to lose some weight and to get better grades in school. I definitely have my work cut out for me.
As Mavs fans, we are obligated to support our team through thick and thin. There are times where it is easy and times like now where it is a little more difficult, but either way we are Mavs Fans For Life. And since we are dedicated to the team, it is time to make some fan-wide resolutions for the upcoming year.
Here are the three MFFL New Year's resolutions that I came up with for 2018.
LAS VEGAS, NV – JULY 08: Dallas Mavericks owner Mark Cuban (L) and head coach Rick Carlisle joke around as they watch the Mavericks take on the Chicago Bulls during a 2017 Summer League game at the Thomas /
1. Trust the organization, especially this summer
Perhaps your New Year's resolution this year is to be more trusting of people you work with on a regular basis. If that is the case, then this first one is a great way to get started. Over the past many years, the Mavs front office has been chasing big name talent in the offseason and coming up short time and time again.
Because of this, Mavs fans were rightfully irritated, saying that the Mavs need to stop trying for big names every year. Then this past summer, Dallas decided not to chase any big name free agents and Mavs fans got upset. The point I am making is that sometimes the front office really does know what they are doing, and in the case of the Dallas Mavericks, that is more often than not.
2. Time to fill up the stands
Maybe your New Year's goal for 2018 is to become more sociable or find room for more entertainment in your life. If that is the case, this resolution is perfect for you. Dallas has had a long history of selling out games and filling up the American Airlines Center, but over the past two seasons, that has not been nearly as evident.
If anyone has been to a game this year where Dallas wasn't playing LeBron, Steph, or James Harden, you have probably seen that the stadium looks a little bleak at times. The Mavs need their fans to start showing up again and get us back to our winning ways in front of sell-out crowds.
DALLAS, TX – OCTOBER 25: Nerlens Noel #3 of the Dallas Mavericks reacts during the game against the Memphis Grizzlies on October 25, 2017 at the American Airlines Center in Dallas, Texas. NOTE TO USER: User expressly acknowledges and agrees that, by downloading and or using this photograph, User is consenting to the terms and conditions of the Getty Images License Agreement. Mandatory Copyright Notice: Copyright 2017 NBAE (Photo by Glenn James/NBAE via Getty Images) /
3. Start saying goodbye to Nerlens Noel
If your goal for the upcoming year is to declutter, or perhaps to move on from a relationship that isn't going anywhere then this is the choice for you. The Mavs and Nerlens Noel have had a rough relationship all season after Dallas made it seem like he was a big part of their future plan. That is obviously not the case.
For that reason, it is time to move on from our hope that Noel and the Mavs could reconcile for the future. The trade deadline is on its way and free agency is not long after, and for that reason, we are likely not going to see Noel in a Mavs uniform again after this year.
Next: Three New Year's Resolutions for the Dallas Mavericks
No matter what the case, the Dallas Mavericks have a great fan base that continues to support the team no matter what happens. These few things are minor changes, but the more trust we can put in the team, the more satisfying the result. Happy New Year, MFFLs.