Tony Parker, Spurs Spoil Dallas Mavericks' Quest For Third Straight Win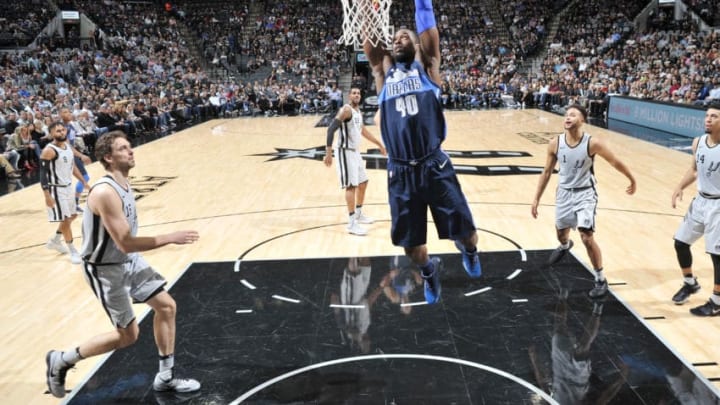 SAN ANTONIO, TX - NOVEMBER 27: Harrison Barnes #40 of the Dallas Mavericks drives to the basket against the San Antonio Spurs on November 27, 2017 at the AT&T Center in San Antonio, Texas. NOTE TO USER: User expressly acknowledges and agrees that, by downloading and or using this photograph, user is consenting to the terms and conditions of the Getty Images License Agreement. Mandatory Copyright Notice: Copyright 2017 NBAE (Photos by Mark Sobhani/NBAE via Getty Images) /
The Dallas Mavericks fought hard but had no answers for LaMarcus Aldridge and Pau Gasol. The San Antonio Spurs take the 115-108 victory.
Tony Parker made his season debut tonight and the San Antonio Spurs handed the Dallas Mavericks a 115-108 loss. Just when the Mavs were in the groove of winning, the Spurs impeded their momentum, thus ending their win streak at two games.
As they've done throughout much of their newfound success, Dallas took control of the game early on. San Antonio's offense seemed to be out of rhythm which is uncharacteristic of the Gregg Popovich coached team.
Popovich, however, showed more displeasure in the officiating. At the 7:25 mark of the second quarter, Pop was irate due to a botched out-of-bounds call where Dallas was awarded possession. That led to two quick technicals and an ejection.
Dallas carried a 53-46 lead into the half, led by Devin Harris (11) and Harrison Barnes (9). However, an amazing defensive effort from Dwight Powell is what kept that lead intact. Three of his game-high four steals kept the Spurs at bay and Dallas in the driver's seat.
Tale of Two Halves
After leading by as many as 13 points, Dallas allowed Aldridge to power a Spurs comeback. With under four minutes remaining, Dallas faced a 94-91 deficit. That was the closest they would get.
Aldridge led all scorers with 33 points while adding 10 rebounds, four assists, two steals and three blocks. Gasol was impressive as well, tallying 25 points, six rebounds and four assists. In his return, Tony Parker totaled six points and four assists in 14 minutes of action.
Dennis Smith Jr. and Wes Matthews led seven Mavs in double figures with 19 points apiece. J.J. Barea added 16 points, seven assists and three steals. Harrison Barnes and Devin Harris each chipped in 13 points.
Dirk and Powell scored 11 and 10 respectively.
Next: Non-Top 5 Prospects in 2018 NBA Draft for Dallas Mavericks
Coming into the month, not too many fans were optimistic in regards to the team's win total. In hindsight, Dallas has exceeded expectations and is carrying a new sense of pride and confidence.
Dallas closes out its November schedule on Wednesday as they host the Brooklyn Nets. Tip-off is set for 8:30 P.M. ET.