Dallas Mavericks Look for 2nd Win Against Familiar Foe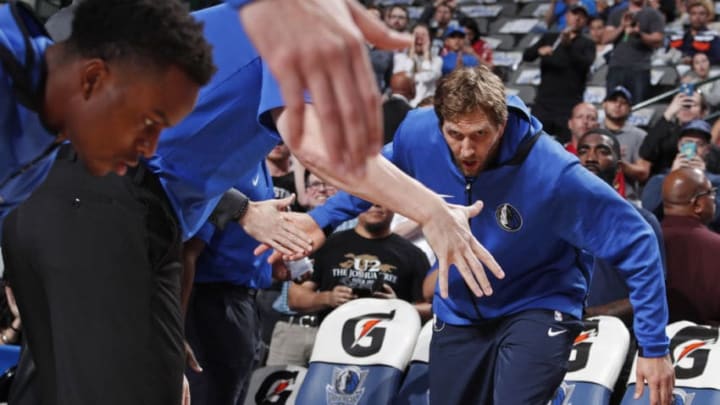 DALLAS, TX - OCTOBER 25: Dirk Nowitzki /
The Dallas Mavericks are out in Memphis to finish up the home/road back-to-back against the Grizzlies tonight. After nabbing their first win in last night's game, can the Mavs do it again?
The Dallas Mavericks could use a nice little win streak to silence all of the doubters, and what better way to do it than by beating a very good Memphis Grizzlies team two times in as many days? Mike Conley and Marc Gasol are not going to make it easy, but I believe we can do it.
There are a lot of reasons why I believe that. For one, the Mavs have looked like a different team the last couple games. Although the game against the Golden State Warriors was not pretty, Dallas played better than they did in the first week of the season. Then, last night, they put together a full 48 minutes and the results were noteworthy.
Tonight, the Grizzlies will be looking for revenge. Mike Conley did not have a great game and their supporting cast definitely had an off night. Dallas will have to play even better tonight if they want another win against a playoff-aspiring Memphis team.
The Mavericks have been helped with noteworthy performances from Dennis Smith Jr., Wesley Matthews, J.J. Barea, Harrison Barnes, and Nerlens Noel on different nights. Toss in a couple decent performances from Dorian Finney-Smith, Devin Harris and Dwight Powell, and the Mavs start to fire on all cylinders.
This is a dangerous team when fully healthy and fully functional. Let's take a look at what I like to call "Who to Watch For and Who to Watch Out For".
DALLAS, TX – OCTOBER 25: Wesley Matthews #23 of the Dallas Mavericks reacts to a call in the first half while taking on the Memphis Grizzlies at American Airlines Center on October 25, 2017 in Dallas, Texas. (Photo by Tom Pennington/Getty Images) /
Who to Watch For
As mentioned above, the Mavs are starting to click together and just about every game has come with a solid team effort to this point. Tonight, I think the player to keep an eye on is Wesley Matthews.
Matthews has been up and down so far this year with a lot of people ready to send him straight to Siberia, while others are hopeful that this will be his year. I am on the fence with Wes right now, but the way he has shot the last few games is refreshing. If he can make this the norm, he will be a very important part to the Mavericks offense.
Who to Watch Out For
The obvious answer here is Marc Gasol after his insane performance last night, but I am going with Mike Conley. Conley has been playing great the last few years and continues to impress on both ends of the court. Despite DSJ playing well, Conley is a wily veteran and will be ready to show that tonight. Dallas will need to try hard to contain him this time around.
Next: Mavericks Beat Grizzlies for First Win of the Season
The Dallas Mavericks tip-off with the Memphis Grizzlies tonight at 7:00 central time in Memphis. Follow us on Twitter to get live game updates and the game recap as well. Let's go Mavs!