Mavericks Conspiracy Theory: Did Dirk Talk Noel into Qualifying Offer?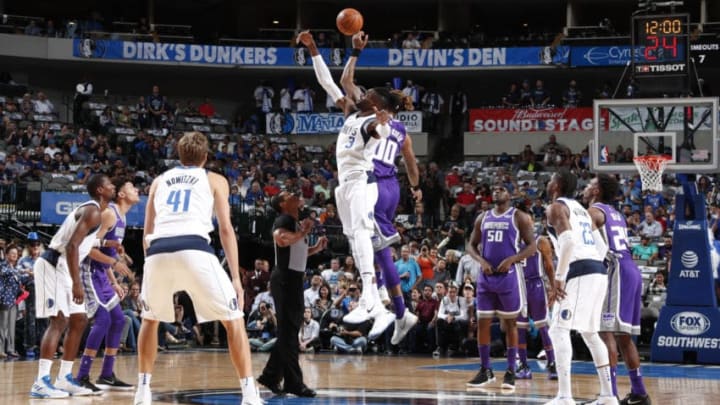 DALLAS, TX - OCTOBER 20: Tipoff against Nerlens Noel /
The Dallas Mavericks had a weird summer when the team decided not to offer Nerlens Noel the money he felt he deserved before eventually settling on a one-year qualifying offer that puts Dallas in a tough position. Or does it?
Everyone knew the Dallas Mavericks were going to match any offer that Nerlens Noel received this summer. But, very few people could've guessed that there wouldn't even be a trade for the Mavs to match. The whole situation was confusing and it seemed like something else was going on.
Well, look no further, Mavs fans, because I've got a theory that we could all agree is very possible. When Dallas seemingly missed out on the chance to lockdown a future star at center, fans all over were outraged that nothing came of it. Noel has been quietly optimistic with the situation ever since signing the qualifying offer, so is there an external force in play?
I have to believe that there is something brewing behind closed doors for the Mavericks, and I think that Dirk Nowitzki is at the root of it all. For years, Mavs fans have been the last ones to know what the actual plans were for Dirk and his future with the team. His contract is quietly, discussed every year, his retirement plans are never spoken of, and no one ever knows how the Mavs will utilize him.
This summer, the Mavs and Dirk both hinted at a possible plan to retire after this season. They won't let anyone know the truth for fear of a city-wide state of depression, but the signs have been there that this could inevitably be the final year of the Dallas Mavericks and Dirk Nowitzki pairing that has created so many highlights for the past 20 years.
Could it be possible that Dirk Nowitzki, knowing full well of his situation with the team, convinced Nerlens Noel that the qualifying offer was the best thing for him this year? Here are just some of the facts that would accompany this sequence of events.
DALLAS, TX – OCTOBER 20: Dirk Nowitzki #41 of the Dallas Mavericks looks on during the game against the Sacramento Kings on October 20, 2017 at the American Airlines Center in Dallas, Texas. NOTE TO USER: User expressly acknowledges and agrees that, by downloading and or using this photograph, User is consenting to the terms and conditions of the Getty Images License Agreement. Mandatory Copyright Notice: Copyright 2017 NBAE (Photo by Danny Bollinger/NBAE via Getty Images) /
1. Dirk Nowitzki would no longer be in need of help on the defensive end. This could give him the chance to really bloom as a potential defensive player of the year.
2. Someone would need to take on the mantle as a team leader and a public figure in Dallas. Perhaps even Dirk could endorse Noel as that man.
More from The Smoking Cuban
3. The Mavs money situation will be less murky this summer. More cap will be available and the best players will get paid.
4. Dirk would get to start his last season and Noel would be alright with coming off the bench in his honor. This would give the fans even more reason to love him.
5. Noel will get to be one of the faces of the team and help settle his contract in order to get more playmakers in Dallas in free agency. He will get to help build his team with Mark Cuban, Rick Carlisle, and Donnie Nelson.
6. Noel gets the season to prove to the fans that he is the real deal.
7. By taking the qualifying offer, it takes away his restricted free agent status and allows the Mavs the opportunity to offer him more than he would have gotten before.
All of these explanations could verify the involvement of both Dirk and the Mavs front office with the Noel contract talks, despite never being made public. Again, this is something that happens regularly with the Mavs.
To summarize, although this has not and probably will never be substantiated, it is not hard to believe that Dirk could have played a major part in the Nerlens Noel contract fiasco of 2017.
Next: Wesley Matthews and the Tough Situation in Dallas
In the end, it may not matter how or why everything happened the way it did this summer, but if it gives us hope for bringing back a potential future star, I am all for the conspiracy theories. Until next summer, we will just have to wait and see what happens.