Dallas Mavericks Officially Waive Warney, Wayns and Dozier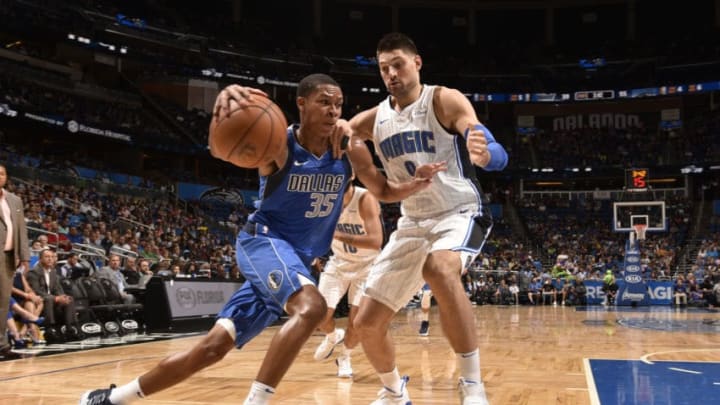 ORLANDO, FL - OCTOBER 5: PJ Dozier /
The Dallas Mavericks inched closer to a final roster on Saturday as they requested waivers on three players on the 20-man roster.
After the Mavericks requested waivers on Brandon Ashley and signed Jameel Warney on Friday, they turned right back around and waived Warney on Saturday as they started to make their official roster cuts.
This move might confuse some since Warney was just signed on Friday, but it was the plan all along as now the Mavericks have Warney's G-League rights as he is expected back in Frisco with the Texas Legends.
But Warney wasn't the only name waived on Saturday as the Mavericks also requested waivers on Maalik Wayns and P.J. Dozier.
Wayns, a 6'2″ point guard, was expected to be waived at some point due to the plethora of point guards on the roster. P.J. Dozier was a different story as there was debate around him possibly getting a roster spot or two-way contract.
Dozier, a 6'6″ guard/wing, has the frame to make it into the league, but failed to impress enough in the preseason for Dallas to keep him over the likes of Gian Clavell.
Now, all three players are waived and the roster in Dallas sits at 17. This is including the two-way contract of Johnathan Motley. For the roster to be finalized before opening night, Dallas now has a few more decisions to make.
More from The Smoking Cuban
First, do they convert the contract of Gian Clavell or Maxi Kleber to a two-way contract? If so, they would then have an official roster of 17 players with two players on two-way contracts. Nothing more would have to be done.
Dallas could also choose to waive a player on the roster and thus the remaining players would be on the official, 15-man roster. This would leave the other two-way contract in Dallas open. For example, Dallas could choose to waive Salah Mejri or Jeff Withey and keep the remaining players (excluding Motley) on the official roster.
The Mavericks could also convert someone like Clavell to a two-way contract, keep Kleber on the official roster and make the choice to waive either Withey or Mejri. This would open up a roster spot for Dallas heading into the season.
Next: Mavericks Fall to Hornets in Preseason Finale
Dallas has their options, and they will be making their decisions over the next few few days.