Mavs Media Day: Seth Curry as a Starter Makes Sense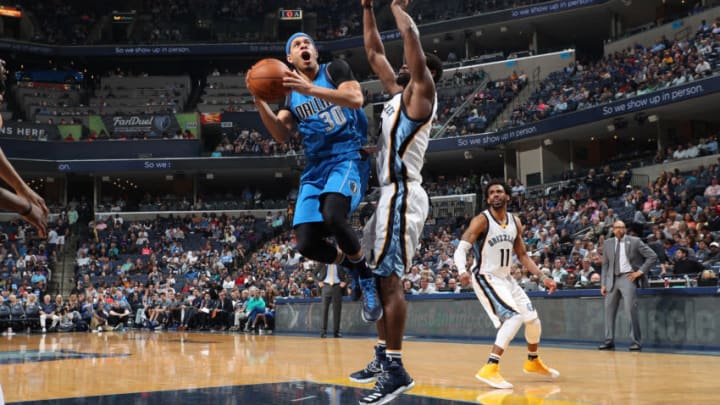 MEMPHIS, TN - MARCH 31: Seth Curry /
The Dallas Mavericks still have some things to iron out before the season starts, including who exactly will finish out the starting lineup. My hope is that the final spot will go to Seth Curry.
When the Dallas Mavericks announced that Dirk Nowitzki will be the starting center for the team this year, many people were shocked. There is plenty of reason to be shocked, of course, after all the craziness surrounding the Nerlens Noel situation this summer.
After the initial shock started to settle, my next thought was simply: who will join Dirk in the starting lineup this year? Obviously Dennis Smith Jr., Wesley Matthews, and Harrison Barnes are the likely candidates to fill in around him, but that leaves one spot that does not seem to be so obvious. Especially after what Carlisle said at Media Day today.
Obviously, my first thought to fill in the open starting position was Seth Curry as he would be considered the most talented candidate after Noel. This report does not mean that he will absolutely not be in the starting lineup, but it does mean that it is not definite.
In my opinion, the Mavericks need to add Seth Curry to the starting lineup. Putting him and DSJ at the two guard spots may take a little bit of a toll on the team defensively, but they will make up for it on offense undoubtedly. Giving Junior a player to dish to off of the drive for an easy three is going to be important and there is not a better candidate for that than Curry.
Surrounding Dennis Smith Jr. with shooters should be part of the Mavs game plan. Players like Harrison Barnes and Seth Curry are good off the dribble and can create their own shots, but neither are nearly as lethal with is as Junior. Putting Curry in the starting lineup will give DSJ four options for a drive and kick that can catch and shoot at a high level. Add that to the fact that Matthews and Barnes are excellent defenders, and this lineup makes a lot of sense.
Next: Mavs Media Day News: Dirk to Start at Center, Noel Coming off Bench
There is no telling what the Dallas Mavericks are going to do with the starting lineup, but I for one am pulling for Seth Curry to nab the fifth and final spot with Dallas. Shooting concerns will quickly become a thing of the past for the Mavs team.