Kevin Durant 'Learned From Dirk' About Sacrificing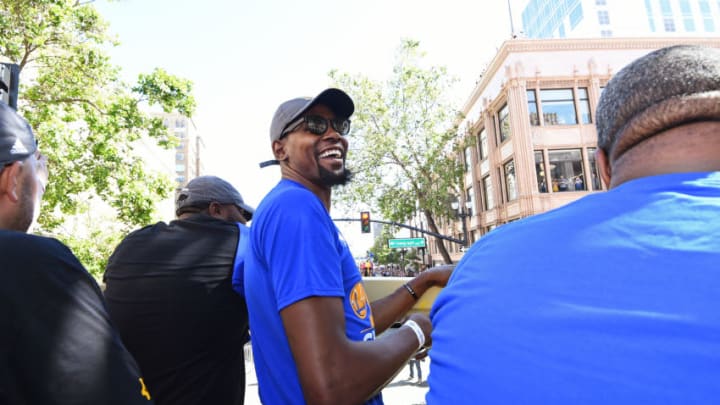 OAKLAND, CA - JUNE 15: Kevin Durant /
Kevin Durant finally opens up after his re-signing with Golden State and compares his financial sacrifice to Dirk Nowitzki.
After winning the NBA Finals and Finals MVP over the course of the past year, Kevin Durant had a decision to make in regards to his future his free agency.
The actual decision was easy to many, but the dollar amount was the only thing in question.
Durant settled the discussion when he signed a two-year, $53 million deal with the Golden State Warriors.
Approximately $10 million less than what he could have received with a max contract.
On August 10th, The Athletic published their exclusive one-on-one with Kevin Durant where he opened up about his re-signing and the topics.
When Durant was asked about the backlash he got from fans and media regarding his decision, Durant admits he is used to it by now and that he should be able to do the same as other stars have in the past.
""They only (criticized) it because it's the Warriors and it's me and they love to hate anything we do right now. A lot of players have (taken pay-cuts). It wasn't that I wanted the praise. I've learned from Tim Duncan and Dirk Nowitzki and how it has helped them over the years and I thought, if they did it, why can't I? Why shouldn't I sacrifice? People wanted the money to break us up and I didn't want that to happen," Durant said to Anthony Slater of The Athletic."
More from The Smoking Cuban
Durant obviously mentions Dirk Nowitzki as an example because of the financial sacrifice Nowitzki has made over the years in Dallas. From turning down max deals a few years ago only to re-sign in Dallas for under $10 million to him even signing on for $5 million this season, Dirk has written the book on financial sacrifice in the league.
The real question is, did it work?
Durant said that he saw how it helped them over the years and you could make an argument that the sacrifice from Dirk never really helped him as the franchise kept missing out on the big name free agents.
For Durant, the sacrifice was made to keep a championship core together that very well could lead to a dynasty in the Bay area.
Next: Why Teams Are Envying Dallas With Nerlens Noel
You can read the full one-on-one interview with Durant and The Athletic here.