ESPN Mock Draft Has Dallas Mavericks Selecting Marques Bolden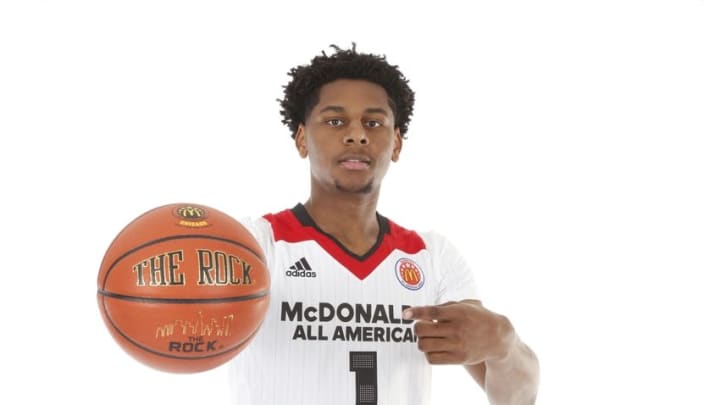 Chad Ford and ESPN released their first mock draft for 2017 and they predicted the Dallas Mavericks selecting Duke big man, Marques Bolden.
Predicting where the Dallas Mavericks will finish this upcoming season has become one of the hardest teams to predict. Anywhere from fifth, on down to out of the playoffs, people have thrown out their predictions of where the Mavs will end up.
Where they finish is uncertain, but what is for certain is that they own their first round pick heading into next summer. Barring a mid-season trade, Dallas will use their 2017 first round pick to select another young talent like they did with Justin Anderson last summer.
Chad Ford, arguably the biggest NBA draft expert at ESPN, released his Mock Draft 1.0 on Tuesday where they predicted the Mavs final record, final draft spot, and draft selection.
Ford predicted the Mavs to finish with a 40-42 record where they would just miss the playoffs, thus giving them the 13th pick in the draft.
With that 13th pick, ESPN had Dallas selecting Marques Bolden out of Duke.
""Andrew Bogut will hold down the middle for the Mavs this season. He's a terrific player when healthy, but he's 31 years old and he has had a long history of injuries.Bolden has all the physical tools to be a dominant NBA center. If Mike Krzyzewski can get him to play hard at Duke this year, he should have a great future." -Ford"
For the Mavs to draft at this spot in the draft, it would mean a big bag of mixed emotions in Dallas.
First, it would mean the team didn't finish the season like many (including myself) would have predicted and that Dirk Nowitzki missed the playoffs in one of his last years. On the other hand, getting a lottery selection in this loaded draft class would give the Mavs a chance to land a quality young talent for the future.
Bolden is a 6″10 high schooler who's a five-star recruit heading to Duke this coming season. After receiving offers from other top programs like Kansas and Kentucky, the Dallas, Texas native (DeSoto High School) chose to head to North Carolina to play for Coach K.
Finishing the season as the #2 ranked center in his class, Bolden looks to be a one-and-done player on a LOADED Duke team this upcoming year.
Next: Letting Raymond Felton Walk to Los Angeles
In theory, it would be nice for Dallas to grab a player like this next summer, but I would rather have more successful season and draft in the 20's.