Two Dallas Mavericks Face-Off in International Matchup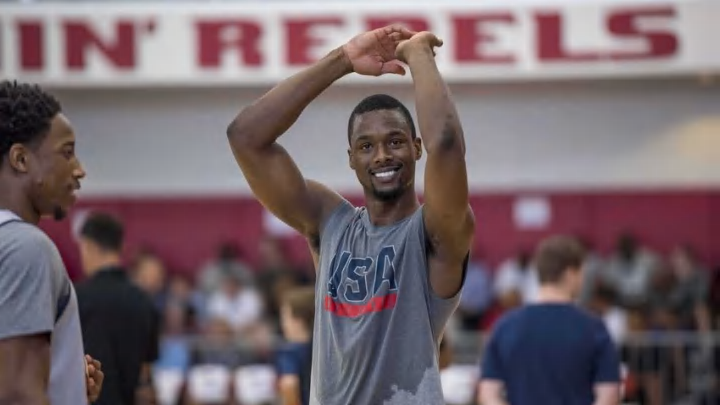 Jul 20, 2016; Las Vegas, NV, USA; USA forward Harrison Barnes (8) fakes a shot during a practice at Mendenhall Center. Mandatory Credit: Joshua Dahl-USA TODAY Sports /
The Dallas Mavericks had two players represented in the very first exhibition game in preparation for the 2016 Summer Olympics.
The United States of America basketball squad played their first exhibition game tonight in preparation for the 2016 Summer Olympic Games in Rio de Janeiro starting next month. Their opponent from tonight, Argentina, is the only other team to win a Gold Medal in the olympics since the 1988 Seoul Games.
If Argentina is going to be the biggest competition for Team USA, it may be better for the Olympic committee to just give us the gold now and have everyone else battle for silver. Team USA smoked Team Argentina with a final score of 111-74.
Players like Kevin Durant, Paul George, and Carmelo Anthony headline the team for the United States, while guys like Luis Scola, Manu Ginobili, and Carlos Delfino are the most notable Argentinians.
Jul 22, 2016; Las Vegas, NV, USA; Argentina forward Luis Scola (4) is defended by USA guard Kevin Durant (5) during a basketball exhibition game at T-Mobile Arena. USA won 111-74. Mandatory Credit: Joshua Dahl-USA TODAY Sports /
However, for the Dallas Mavericks fans in the world, tonight was more about seeing two of our newest players face off against each other in international play. Although Harrison Barnes and Nicolas Brussino are lesser known players for their respective squads, each bring excitement to the future of Dallas.
Tonight's game may not have been the exciting game that fans were hoping for between the two players, and we really didn't even get a look at either player. Barnes, who we have seen plenty of in his NBA play, only shot 4 shots and made 2 of them.
More from The Smoking Cuban
Brussino, a player I personally am very excited to see and am hopeful to become a solid player, didn't shoot a single shot and only played 11 minutes. He was able to snag 6 rebounds and seemed to be in control when he had the ball regularly, but still disappointing nonetheless.
Team USA will have another exhibition game on July 24th against China where we will hopefully get another look at Harrison Barnes before the olympic games and then the upcoming season for the Dallas Mavericks.
The next chance to get a look at Brussino may not be until the Olympics start and the preliminary round matchup for Argentina against Nigeria on August 7th. Expect to see Argentina advance to at least the quarterfinals of the Olympics.
MFFLs may not have gotten what they wanted tonight, but it is still very exciting seeing two of our players represent the nations and countries that they call home.