Could Dwyane Wade Actually Suit Up For Dallas?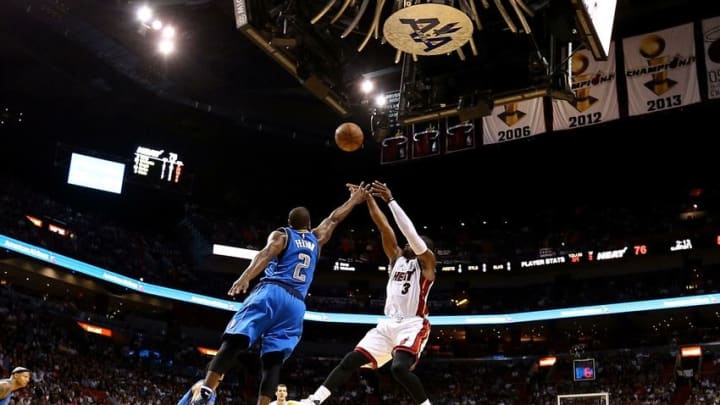 Jan 1, 2016; Miami, FL, USA; Miami Heat guard Dwyane Wade (3) shoots over Dallas Mavericks guard Raymond Felton (2) during the second half at American Airlines Arena. Mandatory Credit: Steve Mitchell-USA TODAY Sports /
The Miami Heat cap situation has created an interesting situation surrounding their pursuit of three-time champion Dwyane Wade.
After locking in Hassan Whiteside after midnight to a max contract, Miami now faces a dilemma as  they are set for a Sunday meeting with Kevin Durant while still trying to bring back Mr. Heat himself in Dwyane Wade.
Wade, who has sacrificed money for many of the past years, has made it known that he wants to be paid this offseason for those sacrifices. But, it's important to note that a similar situation happened last summer as he was brought back for around $20 million. But Miami might not be willing to pay that steep of a price.
And if Miami isn't going to pay, it looks as if Wade is entertaining people who will.
Now, Yahoo Sports is reporting that Wade is in contact with four other teams across the league.
"The Chicago Bulls, Dallas Mavericks, Denver Nuggets and Milwaukee Bucks have started a courtship process that has included offers in length of two and three years and upward of $20 million a season – a salary the Heat so far have been reluctant to offer, league sources said."
With Dallas missing out on initial "big fish" in Whiteside, Nicolas Batum, and Mike Conely, could they really entertain bringing in Wade of all people?
Last season, Wade averaged 19/4/4 on the season while playing in 74 games. He also averaged over 30 minutes a game as the three-time champ led the Heat to the third seed in the East.
Wade could come in right away at his desired contract number and be arguably the main scoring option for the team. As far as the fit goes next to Matthews, Wade would either slide into the small forward spot or possibly run the point.
So could this actually happen? What about Miami's initial offer?
"The Heat's initial offer of $10 million annually – which would've constituted a 50 percent pay cut from his $20 million 2015-16 salary – deeply angered Wade, league sources told The Vertical."
Next: Parsons News Hurts, But Stings Now
On paper, this seems to be a little more serious that last offseason, but I still give this as an extreme long shot in seeing Wade leave Miami…let alone for Dallas.