Should the Dallas Mavericks Upgrade at Point Guard or Center?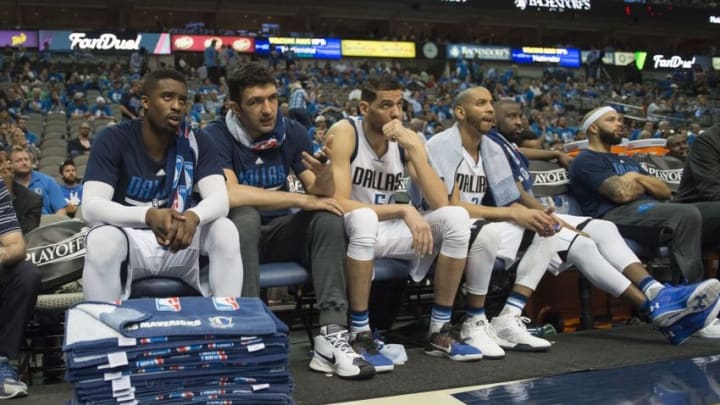 Apr 21, 2016; Dallas, TX, USA; Dallas Mavericks guard Wesley Matthews (23) and center Zaza Pachulia (27) and center Salah Mejri (50) and guard Devin Harris (34) and guard Raymond Felton (2) and guard Deron Williams (8) watch from the bench during the second half against the Oklahoma City Thunder in game three of the first round of the NBA Playoffs at American Airlines Center. The Thunder defeated the Mavericks 131-102. Mandatory Credit: Jerome Miron-USA TODAY Sports /
With free agency just over a month away, the Dallas Mavericks enter an important offseason looking to upgrade at some crucial positions.
The Mavericks go into the summer with just six players on the roster including recently signed Wesley Matthews. With Chandler Parsons and Deron Williams hitting free agency, along with Dirk Nowitzki opting out, Dallas has some questions to answer come the offseason.
Considering the Maverick's history in free agency, nothing is a guaranteed come the summer, not even verbal agreements from big time players. So going into free agency with a set-in stone plan is something that Dallas probably can't do.
The whole offseason will begin with what Dallas does with Chandler Parsons. If I was a betting man, I would think that Parsons comes back to Dallas on a near (if not the max) max deal for five years. Parsons would lock down the small forward position for the next years to come.
Then there is Dirk Nowitzki. Everything that I am hearing is that the Big German will be back with Dallas on a short-term contract, maybe even a two-year deal with a player option on the second year.
This would notably leave open two big holes at the point guard and center positions.
Deron Williams opted out and is set to hit free agency. With Dallas being his hometown and it seeming to workout last year, it looks to be a hometown reunion for the veteran guard, but nothing is guaranteed. Raymond Felton is hitting free agency after a rejuvenated season and I would assume he will be elsewhere next season. Both J.J. Barea and Devin Harris will be back as they are still under contracts.
At center, Zaza Pachulia is in a similar situation as Raymond Felton as the veteran big man had a bigger year for his standards and his status in Dallas in up in the air. Salah Mejri is still under contract and JaVale McGee has a team option for next season that Dallas will have to decide on soon.
For Dallas to be better than last season, an upgrade at one of these positions looks inevitable, but which position is it?
In my opinion, there are two main options to seek out. Notice I said options that they "seek" out and not options they will necessarily have.
Option One
Go into next season with Salah Mejri as your starting center and focus your offseason on getting the best point guard available, Mike Conley.
Mejri not only beat out veteran Samuel Dalembert in training camp this past fall, but eventually found himself rising up the depth chart as he fond himself as the starting center come the playoffs. He gave the Mavericks a presence above the rim on both ends of the court unlike Pachulia could.
There are still question marks surrounding Mejri as a starting center type, but having a starting center that could provide what he does while making 800k a year would give Dallas plenty of financial flexibility to fill out the roster.
Obviously, Mike Conley would come in right away to form one of the best defensive backcourts in the NBA and be one of the cornerstones of the franchise for the years to come. Handing Conley max money would result in Deron Williams finding a new home to finish his career, but a sacrifice that I think Dallas would have to make.
The positives of this option would be getting a franchise caliber point guard who is still just 28 years old and still having money to fill out the roster with solid role players. The negatives would be making Salah Mejri your starting center for the entire season despite his thin frame and his continuing adjustment to the NBA.
Option Two
Bring back Deron Williams as your starting point guard and go free agent center shopping.
We can only speculate on the type of contract that Williams will demand from Dallas but I would assume it will be around 2-3 years at about $7-9 million a year. Williams, when healthy, gave the Mavericks a veteran leader at the point that came in clutch throughout the whole year.
After the Parsons and Williams contracts, Dallas would then focus all of their attention on bringing in a top flight center in free agency. Names such as Hassan Whiteside, Dwight Howard, and Al Horford will all be names that Dallas will be linked to this offseason.
To land one of those top free agent centers, it is going to take a near max contract. If Dallas could bring back Parsons, Williams and Nowitzki to go along with a near max center in free agency, they would be stretched thin in filling out the rest of the roster.
The positives of this option would be Dallas finally getting a center that is locked in for the years to come. Also, forming a starting unit of Williams, Matthews, Parsons, Nowitzki, and big name free agent center would be very appealing to Dallas fans.
The negatives would be that Dallas would be very stretched in filling out a bench unit of minimum contracts. Once again, Dallas would have to look at aging veterans willing to come on for a year at a cheap price. Another negative(?) would be Dallas not having a younger point guard locked in for the future. This would commit to Williams for the next couple of years.
More from The Smoking Cuban
I'm obviously operating under the dream that Dallas would have their preference, thus the reasoning behind me saying the word "seek out" above. Both options have their pro's and cons, but Dallas simply doesn't have the money to upgrade both positions significantly.
With the lack of free agent talent at the point guard spot behind Mike Conley, I would guess that Dallas would chase option two before option one. Having numerous options at center to chase, Dallas could bring back Deron Williams easily and focus the majority of their summer in luring a big time center to Dallas.