Rumors
Dallas Mavericks: What does rotation look like with Goran Dragic?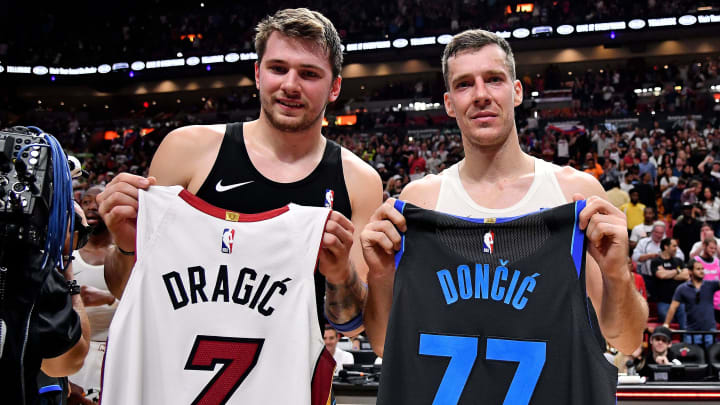 Dallas Mavericks Luka Doncic Goran Dragic / Jasen Vinlove-USA TODAY Sports
Dallas Mavericks Goran Dragic / Jerome Miron-USA TODAY Sports
End of the bench options for the Dallas Mavericks with Goran Dragic
The Mavs will struggle to find minutes for skilled players this season. Boban Marjanovic will likely be the team's third center and a break glass in case of emergency option, but fans know the 7'4 big man will help Dallas win multiple games this season.
2020 first-round draft pick Josh Green looks like he will be on the outside looking in at the rotation if the Mavericks add Goran Dragic. Green showed he can impact winning as a rookie, but finding playing time will not be easy. His energy and hustle will give coach Kidd a reason to throw him into games when the Mavericks are struggling.
Willie Cauley-Stein, Dwight Powell, and Moses Brown will also be DNP-CDs this season. All three are talented big men that would play a nightly role on most rosters, but Dallas only has room for one in their rotation most nights. The Mavericks have a ton of center depth, and they could look to trade from that area to round out their roster.
Adding Goran Dragic is a massive upgrade for the Dallas Mavericks because he fills the second-biggest hole in their roster. If Kristaps Porzingis can return to his All-Star form, the Mavs will be a force to be reckoned with that no team would be looking forward to facing in the playoffs. Regardless, Dallas will be fun to watch. Stay tuned to see if they can sign Dragic and if the Mavs can take the next step this season.