Rumors
Dallas Mavericks: What does rotation look like with Goran Dragic?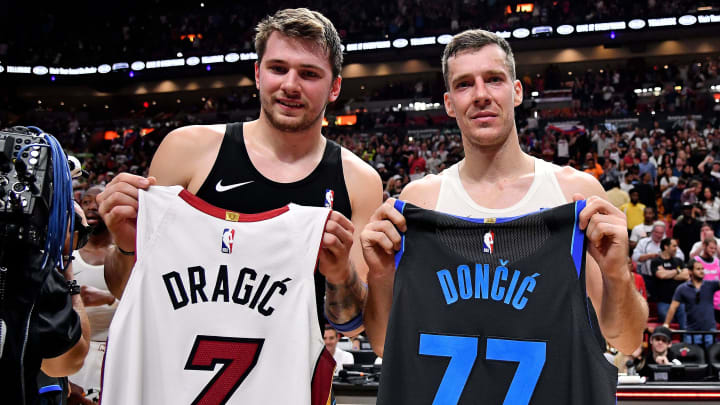 Dallas Mavericks Luka Doncic Goran Dragic / Jasen Vinlove-USA TODAY Sports
The Dallas Mavericks do not seem to be done making moves this offseason. Rumors continue pouring out, despite the organization having a full 15-man roster. Goran Dragic continues to be the central name with reports suggesting he will sign with the Mavs after being bought out by the Toronto Raptors.
It has been an unexpected offseason for the veteran guard. He anticipated the Miami Heat declining his $19.4 million team option and making him an unrestricted free agent, but they decided to pick it up and deal him to Toronto in the Kyle Lowry sign-and-trade. Dragic has made it clear that he does not want to play for the Raptors. The question appears to be when not if he is going to depart his current organization.
The Dragon wants to join the Mavericks to play with his friend and countryman Luka Doncic. He will be an important addition for Dallas because the 6'3 guard fills a glaring hole in their roster. If Dragic signs with the Mavs, how does he shake up the rotation?
Dallas Mavericks excepted to land Goran Dragic: How does he shake up the rotation?
If the Mavs add Dragic, they will have to clear a roster spot. New general manager Nico Harrison will explore multiple avenues with the most likely being the trade market. Tyrell Terry and Trey Burke are the two most likely players to depart if Dallas is forced to release someone to make room for Dragic, but both have multiple years left on their contract.
Here is a look at the rotation assuming the Dallas Mavericks sign Goran Dragic, and he takes the place of Trey Burke or Tyrell Terry on their roster.