Mavs News
Dallas Mavericks: Luka Doncic drops 27 in blowout loss vs. Warriors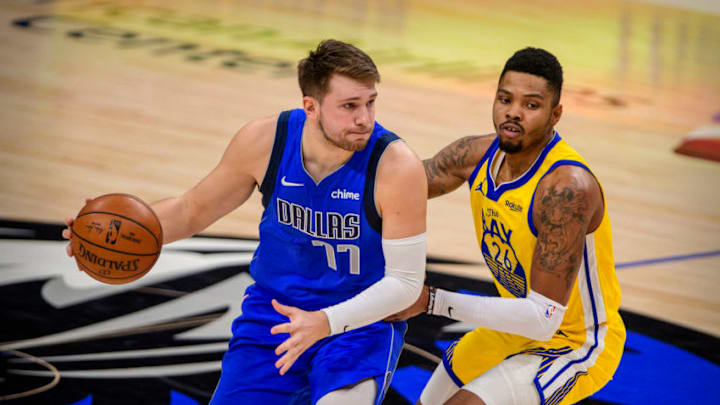 Dallas Mavericks Luka Doncic Mandatory Credit: Jerome Miron-USA TODAY Sports
Dallas Mavericks Luka Doncic Mandatory Credit: Jerome Miron-USA TODAY Sports
Luka Doncic and Dallas Mavericks struggle in second half in loss to Warriors
Kristaps Porzingis got hot in the third quarter as he dropped 15 points early, but the Mavericks offense went cold in the final six minutes of the period. Luka only had two points as the Warriors built a 14-point advantage heading into the fourth.
Coach Carlisle brought both Doncic and Porzingis back with 9:30 left in the final quarter as the Mavericks trailed by 14. The Warriors continued to run them out of the gym, though. Dallas' defense was non-existent on Thursday night as Golden State picked up the blowout win. Luka and the starters exited with 5:35 left and never returned.
Doncic finished with 27 points, six rebounds, six assists, one steal, and five turnovers in 32 minutes of action. He was eight of 20 from the field and eight of nine on his free throws. It was not enough on Feb. 4, though.
The Dallas Mavericks will be looking to bounce back on Saturday night as they host the Golden State Warriors again. They will need to defend better and slow down the Dubs. Expect another monster performance from Luka Doncic. Hopefully, it ends in a Mavs win. Do not miss it.