Dallas Mavericks: 15 greatest draft steals in franchise history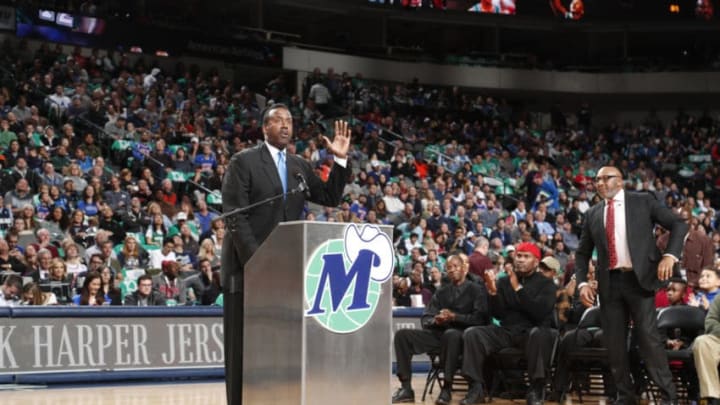 Rolando Blackman, Dallas Mavericks. (Photo by Danny Bollinger/NBAE via Getty Images) /
Dirk Nowitzki, Wang Zhizhi, Dallas Mavericks. (Photo by Jesse D. Garrabrant/NBAE via Getty Images) /
One of my favorite Mavericks and one of the first I can vividly remember watching play was the 36th overall pick in the 1999 NBA Draft, Wang Zhizhi. I can still vividly hear the Mavericks announcer counting down with the clock before Wang hoisted up a buzzer-beating 3-pointer. "5…4…3…2…Wang!"
Although his impact in the league overall was minimal, he did start out his NBA career as a decent bench option for the Mavericks, helping him prove to be better than the 36th player chosen in that 1999 NBA Draft.
The 1999 Draft was a great one for role players, but brought about almost no stars into the league. The best players drafted were Shawn Marion, Jason Terry, Manu Ginobili, Baron Davis, Lamar Odom and the great Metta World Peace.
Wang played in only part of five NBA seasons with only 137 total games. His career spanned across three franchises, starting the Mavs before going to the Los Angeles Clippers and then finishing up with the Miami Heat. His career averages came out to 4.4 points, 1.7 rebounds and 0.3 assists per game on 41.7 percent field-goal shooting.
From the 1999 NBA Draft class, Wang finished 32nd in total win shares, four better than his draft position. None of the players selected in that draft are currently active in the NBA, with Terry being the final one to announce his retirement. Wang was one of the very first players to be drafted out of China and helped pave the way for future Houston Rockets star Yao Ming.