Dallas Mavericks: 15 greatest draft steals in franchise history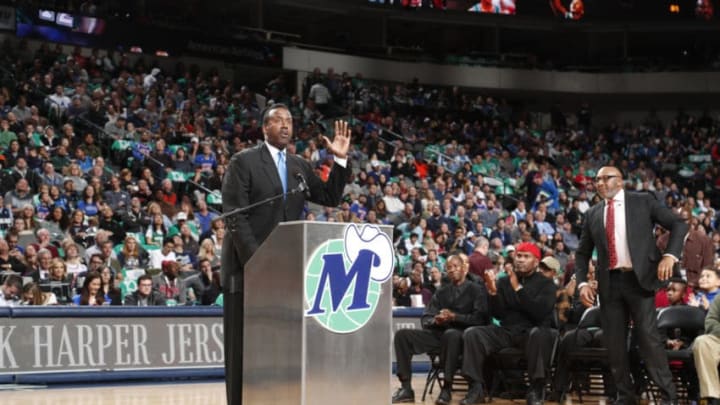 Rolando Blackman, Dallas Mavericks. (Photo by Danny Bollinger/NBAE via Getty Images) /
Jason Kidd, Josh Howard, Jason Terry, Dallas Mavericks. (Photo by Doug Pensinger/Getty Images) /
The Dallas Mavericks have a very unique draft history with years of great players, followed by a decade of almost no one being drafted by the team. Who are the biggest draft steals in Mavs history?
In 39 years of Dallas Mavericks basketball, the Mavs franchise has had a strange time in the draft. Whether it is trading away their first-round picks for basically a decade, always getting bumped down instead of bumped up in the NBA Draft Lottery, or just making the right trade at the right time, the Mavs draft history is far from simple.
Arguably the two best draft picks the Mavs ever made in franchise history came via trades. The first and most important one, Dallas traded down from the No. 6 pick to the No. 9 pick in the 1998 NBA Draft to get Dirk Nowitzki from the Milwaukee Bucks. The second time, the Mavs traded up from the No. 5 pick to the No. 3 pick in the 2018 NBA Draft to get Luka Doncic from the Atlanta Hawks.
Since neither of those guys were selected directly by the Mavs and had to be acquired by other means, I don't consider them draft steals. For that reason, Dirk and Luka will be held out of this list.
Since the 1980 NBA Draft, the Mavericks have selected a player in the top-five only seven times. Some of those guys will be in this list, but Dallas has a good history of getting solid role players with their second-round picks and their late first-round picks as well.
The Mavericks have been in a rebuild over the past three seasons after being one of the best teams in the league since the turn of the century. It is hard to gauge some of their recent picks right now, but some have already shown that they should have gotten more consideration on draft day.
Here are the top-15 Mavericks' draft steals in franchise history.