Dallas Mavericks: It's Time For a Winning Streak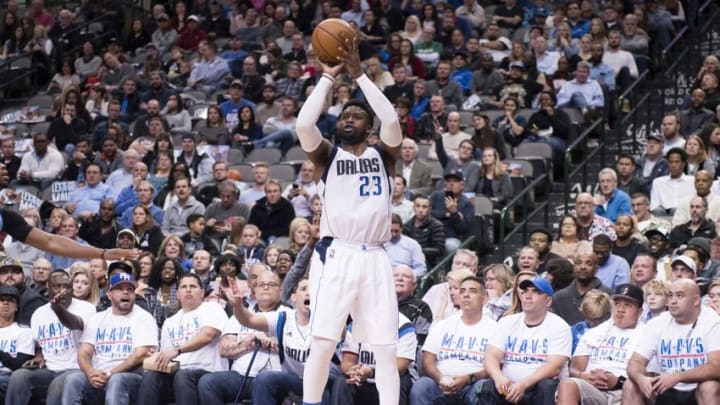 Dec 12, 2016; Dallas, TX, USA; Dallas Mavericks guard Wesley Matthews (23) makes a three point shot against the Denver Nuggets during the second quarter at American Airlines Center. Mandatory Credit: Jerome Miron-USA TODAY Sports /
The Dallas Mavericks had a big time blowout victory over the Denver Nuggets on Monday. Can they have a repeat act against a better Detroit Pistons team?
The Mavs are sitting at a tough 6-18 record which does not sit well with most of the fans. However, after a big win over the Nuggets, Dallas aims to give their fans something to really cheer about.
The Dallas Mavericks have been led by the likes of Harrison Barnes and Wesley Matthews throughout the season and they will look to continue their great play. The team is still waiting on J.J. Barea and Dirk Nowitzki to return to the lineup as well.
Tonight, the key to beating the Detroit Pistons will be in slowing down Andre Drummond. Drummond has been one of the better centers in the league the last few years and is a force on the rebounding front. It will be important to slow him down if we want to get that W.
Dec 10, 2016; Houston, TX, USA; Dallas Mavericks forward Dorian Finney-Smith (10) dunks the ball during the second quarter against the Houston Rockets at Toyota Center. Mandatory Credit: Erik Williams-USA TODAY Sports /
Past Drummond, it will be important for Dallas to slow down Reggie Jackson and Tobias Harris. The Pistons as a team have a fairly balanced scoring lineup. Harris leads the team in scoring, but at only 16.5 points per game. There are 6 players on Detroit that average double digits so far on the season.
Tobias Harris will most likely be guarded by Dorian Finney-Smith or Harrison Barnes due to his size and athleticism. Finney-Smith, or DFS, has been a sight for sore eyes the last few games as Dallas seems to have found a rookie ready to produce when he hits the floor.
On the other end of the court, Dallas needs to make sure the ball is running through either Wes or Barnes' hands each play. Matthews has been unbelievable the last few games and will look to continue his scorching shooting tonight.
The Dallas Mavericks play the Detroit Pistons tonight at 7:30 CT at home. Keep up with us on Twitter to enjoy live game updates throughout. Let's Go Mavs!