Breaking Mavericks News: Dirk Calls Press Conference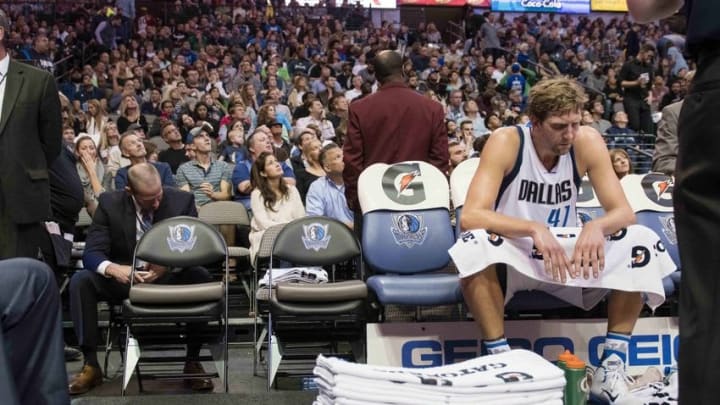 Nov 23, 2016; Dallas, TX, USA; Dallas Mavericks forward Dirk Nowitzki (41) sits on the team bench during the second quarter of the game against the LA Clippers at the American Airlines Center. Mandatory Credit: Jerome Miron-USA TODAY Sports /
The Dallas Mavericks got their first big blowout win of the season today against a quality opponent. But, no good news can come without a little bit of bad.
Take a deep breath. Now exhale. Relax everyone, Dirk is going to be alright.
The Dallas Mavericks have been without Dirk Nowitzki for a majority of the season as he has reportedly been suffering from an achilles injury which has held him out of nearly every game so far this year.
Today, Dirk announced to the media that he would be holding a press conference shortly after the game. It was unclear what the report was supposed to be regarding at the time, but thanks to our very own Isaac Harris attending the press conference, we now know what Dirk was announcing.
The injury to Dirk has been very difficult for Dallas to get past this season as they have only 4 wins through the first 19 of the season. This news could have been far more devastating for the Mavericks but Mark Cuban will now have the chance to wait to decide what the Mavs direction is going to be for the remainder of the season and into the future.
Questions about Dirk's durability are surfacing as this is already the 2nd most amount of games he has missed in a season, and could soon be the most in his career. This injury setback is not something we want to hear, but it could certainly be worse.
The Mavericks are starting to look better each game and Harrison Barnes/Wesley Matthews may be becoming a lethal combination. Add in a healthy Dirk before too long and this is a real team with fire again.
The upcoming task of playing without Dirk even for a few more games is, nonetheless, daunting to say the least. Can Dallas stay above water until the big German is back? How long will it be before this minor setback is resolved and Dirk can get back on the court?