Andrew Bogut, Australia Win Again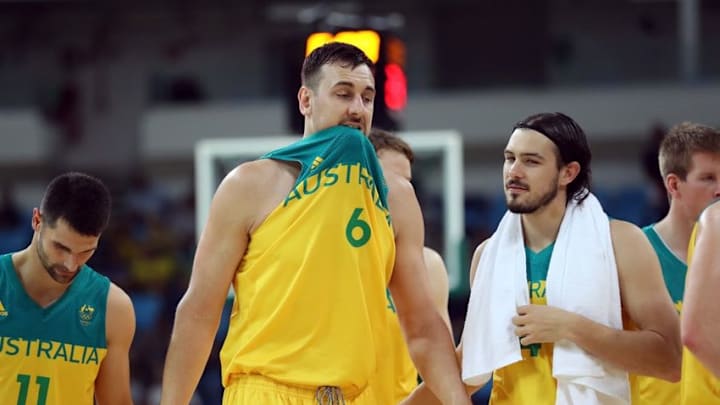 Andrew Bogut continues to help Team Australia win big games in the 2016 Rio Olympics as they win Game 2 of pool play against Serbia.
Just a few days after a major upset win over Team France, Australia met up with a Serbian team who, despite having many good players representing the country, was nowhere near the talent level of France. Australia made that clear as they beat up on Serbia on both ends of the court.
Despite being one of five current players on NBA rosters, Andrew Bogut has looked to be a focal point for the offense and defense of Team Australia. This is a lot different than we have seen from Bogut in his last few years in the league as his time in Golden State was defined by his defensive abilities.
Australia ended up beating Serbia in a fairly close contest, 95-80. Bogut ended the day with only 9 points, 12 rebounds, 6 assists, and 3 blocks. This was no comparison to the monster game he put up against one of the most elite NBA centers, Rudy Gobert, but still not a bad game at all.
Bogut has probably had the most difficult tournament of the entire Australian team as he is the only player to face off against two NBA level centers in the two matches so far. The young but up and coming Gobert appeared out of his league against Bogut while the even younger Nikola Jokic for Serbia did a little better.
Bogut split minutes in the game against Serbia today as Aron Baynes took a lot of the playing time. Foul trouble for Bogut certainly did not help his case for playing time, although he did manage to play 24 minutes.
All-in-all, it is exciting to see this Australian team continuing to win against capable opponents. Bogut has looked like a star for his home team and we hope to see similar play when he comes to Dallas. If his offensive game can pick up the way it has, we are in for a show in the coming year.
Next: Argentina Cruises to Win Over Nigeria
Although Australia really has no likely shot of beating Team USA, the fact that they are winning these tough games against good teams could mean a medal for each of the Dallas Mavericks three players competing in the Rio Olympics.