VIDEO: Jonathan Gibson Drew League Highlights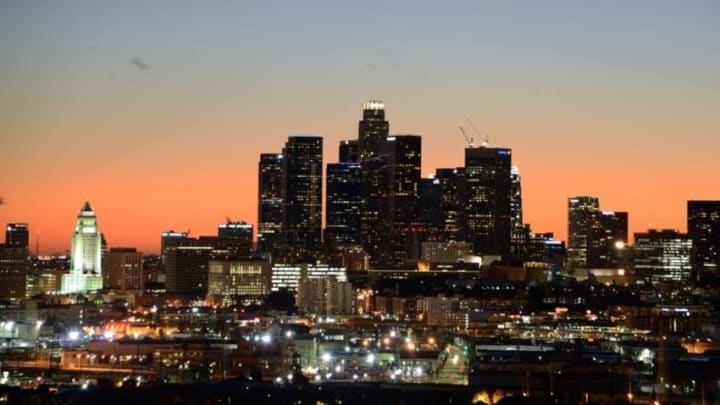 Jan 7, 2016; Los Angeles, CA, USA; General view of the downtown Los Angeles skyline before an NCAA basketball game between the Arizona State Sun Devils and the Southern California Trojans at Galen Center. Mandatory Credit: Kirby Lee-USA TODAY Sports /
Newly signed Dallas Mavericks guard, Jonathan Gibson is lighting up the Drew League, here are some highlights of the guard's play.
During his standout performance throughout the Las Vegas Summer League, Mavs owner Mark Cuban broke the news on live broadcast that the Mavericks had signed the point guard to a three-year deal.
The three-year deal is a partial guaranteed deal that solidifies Gibson's spot in camp and a good chance at making the final roster.
But his basketball summer didn't stop there.
Gibson decided to partake in the famous Drew League (in Los Angeles) where he is leading #1 team 'Redemption' so far in the league. NBA players such as James Harden, Hassan Whiteside, and Brandon Jennings are just a handful of names that have played in the league this summer.
His Redemption team is 8-0 so far after beating Metta World Peace's team called 'Pandas' over the weekend. In the five games that Gibson has played, the team has won by double digits.
Gibson seems to have not missed a step coming from the Summer League as his explosive offensive game and high elevation is making it's presence known in the Drew League.
Law Murray, in previewing Week 8 of the Drew League, said that Gibson is an MVP candidate for the league as his team is still undefeated.
Three years ago, Gibson beat out Brandon Jennings, Dorrell Wright, and Amir Johnson for the MVP of the whole league. This obviously before he went on the average over 40 points a game in China last season.
Next: Which Vet Will Be Missed the Most in Dallas?
Gibson hopes that his hot summer will lead into training camp in Dallas where he will compete to earn a roster spot in the suddenly crowded backcourt in Dallas.