Dallas Mavericks: Three Things I Don't Want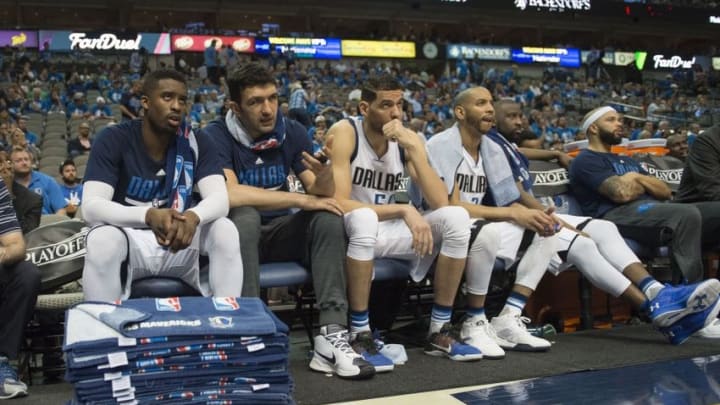 Apr 21, 2016; Dallas, TX, USA; Dallas Mavericks guard Wesley Matthews (23) and center Zaza Pachulia (27) and center Salah Mejri (50) and guard Devin Harris (34) and guard Raymond Felton (2) and guard Deron Williams (8) watch from the bench during the second half against the Oklahoma City Thunder in game three of the first round of the NBA Playoffs at American Airlines Center. The Thunder defeated the Mavericks 131-102. Mandatory Credit: Jerome Miron-USA TODAY Sports /
Mar 14, 2016; Charlotte, NC, USA; Dallas Mavericks forward Chandler Parsons (25) shoots the ball over Charlotte Hornets forward Frank Kaminsky (44) in the second half at Time Warner Cable Arena. The Mavericks won 107-96. Mandatory Credit: Jeremy Brevard-USA TODAY Sports /
Don't Bring Back Chandler Parsons on a Fully Max Contract
First off, I simply don't have the space in this piece to explain all my reasonings for this, but I simply don't want Parsons back on a max contract.
Even if the Mavs landed one of the two targeted big fish (Conley or Whiteside), I still wouldn't want Parsons back on a max contract. I would rather spend the money on filling out the rest of the roster with quality talent and let Justin Anderson get some significant minutes at the three.
With his injury history the last two seasons, combined with his lack of defense, he has a price tag limit that I would not go past. Parsons is a nice player that I wouldn't mind having back, but simply along the lines of an 17-20 mill a year compared to 20+.
The ONLY scenario that I would hand Parsons the max is if it was the deciding factor in Dirk Nowitzki playing for the Mavericks next season, whether that was for another team or retirement. In that case, hand the guy whatever he wants, Dirk deserves it.
Next: Report: Dallas Has No Meeting Planned for Howard
Dallas will make a lot of decisions over the next couple of days, but those are the three things I don't want to happen over the next week's of free agency.