Dallas Mavericks: Three Things I Don't Want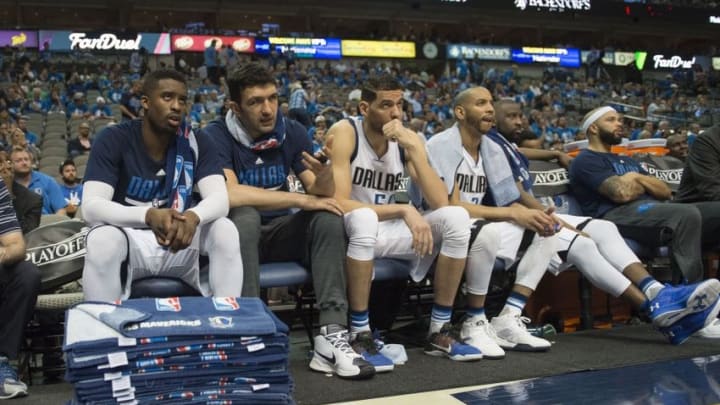 Apr 21, 2016; Dallas, TX, USA; Dallas Mavericks guard Wesley Matthews (23) and center Zaza Pachulia (27) and center Salah Mejri (50) and guard Devin Harris (34) and guard Raymond Felton (2) and guard Deron Williams (8) watch from the bench during the second half against the Oklahoma City Thunder in game three of the first round of the NBA Playoffs at American Airlines Center. The Thunder defeated the Mavericks 131-102. Mandatory Credit: Jerome Miron-USA TODAY Sports /
Apr 2, 2015; Dallas, TX, USA; Dallas Mavericks head coach Rick Carlisle talks with guard Devin Harris (20) and guard J.J. Barea (5) during the first half against the Houston Rockets at the American Airlines Center. The Rockets defeated the Mavericks 108-101. Mandatory Credit: Jerome Miron-USA TODAY Sports /
Don't Bring Back the Four Veteran Guards
Last season, Dallas went the entire season with Deron Williams, J.J. Barea, Devin Harris, and Raymond Felton on the roster and logging quality minutes.
This season, I hope that is not the case.
J.J. Barea and Devin Harris are still both under contract for around $4 million dollars next season. Meanwhile, Williams and Felton hit free agency where a plethora of teams have cap space to sign them for bigger contracts.
For me, I want Deron back only if the Mavericks do not land Mike Conley. If that happens, I want Harris traded or Felton walking in free agency. If Dallas lands Conley, I would guess they wouldn't have the money to bring back Felton.
If Dallas is going to hold a fourth point guard on the roster, I would rather it be a younger prospect that could grow and hold a cheaper cap number that would allow Dallas to spend elsewhere.
Oh, Deron, J.J., and Ray all turned 32 years old this past week.
Next: Primary Dirk