Dallas Mavericks: Three Things I Don't Want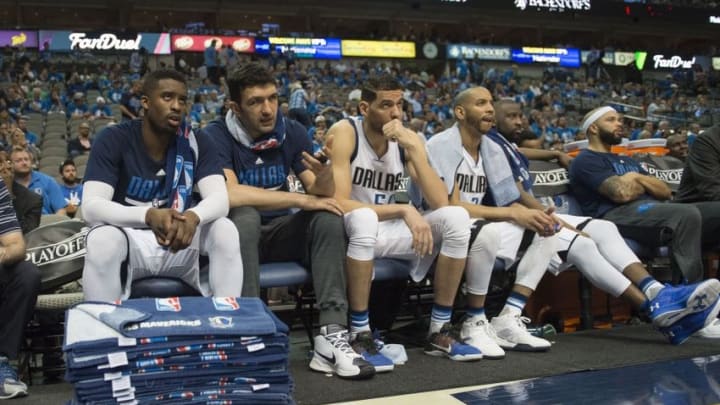 Apr 21, 2016; Dallas, TX, USA; Dallas Mavericks guard Wesley Matthews (23) and center Zaza Pachulia (27) and center Salah Mejri (50) and guard Devin Harris (34) and guard Raymond Felton (2) and guard Deron Williams (8) watch from the bench during the second half against the Oklahoma City Thunder in game three of the first round of the NBA Playoffs at American Airlines Center. The Thunder defeated the Mavericks 131-102. Mandatory Credit: Jerome Miron-USA TODAY Sports /
Apr 13, 2016; Dallas, TX, USA; Dallas Mavericks guard Raymond Felton (2) brings the ball up court against the San Antonio Spurs during the first half at the American Airlines Center. Mandatory Credit: Jerome Miron-USA TODAY Sports /
NBA free agency starts in under 48 hours and the Dallas Mavericks are in for an entertaining weekend surrounding the future of the franchise.
Every Mavericks fan across the globe is sharing their high hopes of landing big free agents and locking in the next face of the Mavs. From Hassan Whiteside to Mike Conley, Dallas has been linked to some major players on the market, but will any of them make the move?
As fans, we all have our lists of wants and dreams for what the Mavs can pull off, but what about the things people don't want to happen?
Are there players on the market that you don't want to see in Dallas? What about roster decisions that you wouldn't be happy with? Maybe a trade that wouldn't make sense to you?
No matter what moves the Mavericks make this offseason, fans across the nation will scrutinize somehow, it's simply a part of the sports world. But with that being said, there is a particular list of things that I don't want to see in Dallas next season.
Here are my three things I don't want to see Dallas do this offseason…
Next: Group of Guards