Report: Dwyane Wade "Sending Out Feelers" to Mavs, Spurs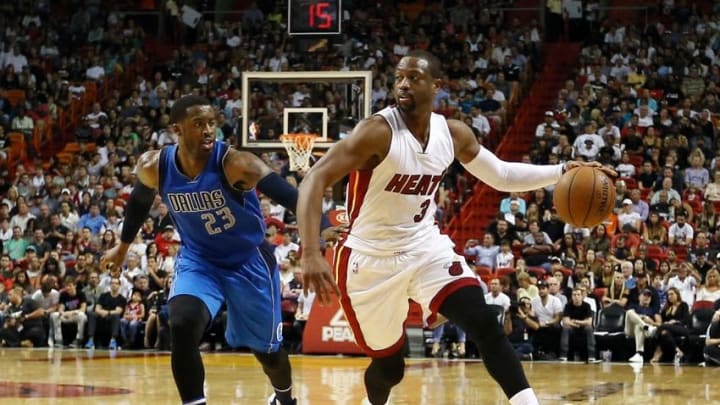 Jan 1, 2016; Miami, FL, USA; Miami Heat guard Dwyane Wade (3) drives to the basket as Dallas Mavericks guard Wesley Matthews (23) defends during the second half at American Airlines Arena. Mandatory Credit: Steve Mitchell-USA TODAY Sports /
With Dwyane Wade set to hit free agency and an uncertain future in Miami, could the NBA champion be interested in Dallas?
Wade is coming off another season in Miami where he will hit free agency and look to be locked up by Riley & Co. at the start of free agency, but will it happen?
With cap uncertainties surrounding the budding Hassan Whiteside and the pursuit of Kevin Durant this weekend, Dwyane Wade might be looking around the league to see who would be interested in his services.
According to Brian Windhorst of ESPN, Wade has sent out "feelers" to a few Texas teams.
More from The Smoking Cuban
While speaking on 790 AM, Windhorst said "Over the last 24, 72 hours, Dwyane's representatives have been calling around the league to several teams. Not to every team, not to 29 teams, but to a few teams."
He continued with "I know San Antonio is one of the team's that have been contacted. I know Dallas is one of the teams that's been contacted."
A similar situation happened last summer when Wade hit free agency but he ultimately inked a one year deal in Miami. Even though the same thing seems to be happening this summer, you never know what will happen in the NBA.
Personally, I see a less than one percent chance of this happening, but I would take Dwyane Wade shooting 97 free throws in the Finals with a Mavs jersey on anytime.